Contract of the Year under $1m
Winner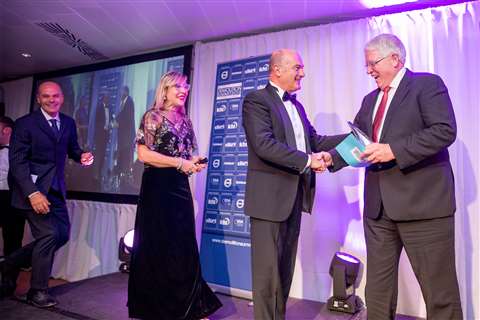 Despe
Country
Italy
Project
Underground cinema demolition
Also shortlisted
Delta Group (Australia);
Priestly Demolition (Canada);
TCE Contracting (Australia)
Judges said
"It is hard to imagine a more demanding project"
Summary
Despe took to the stage for a second time – though it was a different group of individuals representing the family-run business on this occasion – to collect the first of the Contract of the Year awards.
The demands facing Despe related to the Apple company being about to finish building its new megastore in the Italian city of Milan, close to the famous Duomo.
Despe's role was to demolish the Apollo cinema situated 15 m (49 ft) below ground – without any undue noise, vibration or dust and without disturbing neighbouring businesses in the piazza above the cinema.
The company removed all the cinema furnishings, cleaned up all contaminated materials, organised the removal of waste materials and demolished the cinema structures.
Despe said demolition took place because of the use of micromachines and diamond cuts in hard to reach places, and that working closely with the building company and its subcontractors was a fundamental part of the successful project.
During the project, Despe recycled a total of 5,500 t of concrete, 200 t of mixed waste, and 230 t of metals.
Equipment supplied for the project came from companies including Bobcat, Doosan, Komatsu and Liebherr.
The client said: "We have known and worked with Despe for many years. We have awarded many different tender contracts to Despe over time which mainly referred to very complex and demanding demolition works.
"We therefore consider Despe to be an exceptionally reliable, professional and highly specialised partner."