Contractors sought for €120m UK reservoir
By Joe Sargent18 February 2020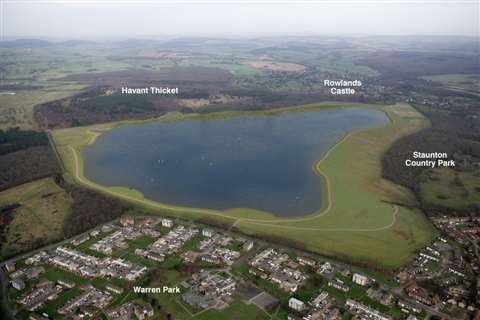 Portsmouth Water is seeking contractors for the first UK storage reservoir to be built since the 1980s.
The Havant Thicket Reservoir, to be based in based in Havant, Portsmouth, will also see the construction of a new visitors' centre and pipe installation, while negotiating proper mitigation of environmental issues.
Partnering with Portsmouth Water, Southern Water is also heading up the development in a bid to provide "resilient water supplies", a new green leisure facility and a new wetland habitat for threatened species of birds.
As part of a procurement process for the scheme, a supply chain engagement event will be held in Havant on 25 March.
Companies wishing to attend have until 13 March to register online for Portsmouth Water's engagement day.
At the event, local, regional and national firms will all be briefed on the reservoir plan and have the opportunity to discuss their potential involvement with Portsmouth Water.
The reservoir, to be built within a budet of £100 million (€120.5 million), is scheduled to be completed by 2029 and will reside inside a woodland area with more than 3,000 trees of varying species.
Planting of the woodland area is already underway and will link to existing woodland to encourage wildlife.
Drilling investigations at the reservoir site began between Staunton Country Park and Havant Thicket in December; the results of soil samples and groundwater levels are filtering back to the firm now and will inform the construction process of the reservoir.
Bob Taylor, CEO of Portsmouth Water, said, "We are in a privileged position to be progressing the first water storage reservoir to be built in the UK for decades as the region's water supplies are put under pressure by climate change, housing growth and the need to protect our natural environment.
"We are very much looking forward to engaging with companies at all tiers in the supply chain who have an interest in delivering this project successfully for current and future generations."