County adds 40 tonne Liebherr
By Leila Steed21 May 2019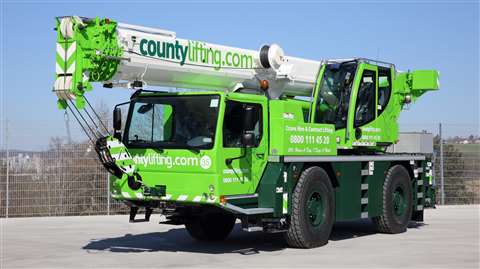 A new Liebherr LTM 1040-2.1 mobile crane has been delivered to specialist lifting company County Lifting Services in the United Kingdom.
The two-axle crane has a load capacity of 40 tonnes and a 35 metre long, continuously variable telescopic boom.
The compact crane also features the VarioBase system which, according to the manufacturer, further enhances the crane's usefulness in restricted spaces.
Liebherr said both the crane's axles were drivable and steerable and that it ensured excellent all terrain capability and manoeuvrability when working in limited space. The model uses a hydro-mechanical telescoping system to extend the boom and now also has pneumatic disc brakes fitted as standard.
Daniel Dury, County Lifting Services, said, "Our recent procurement focus has been to buy specialist cranes that allow us to work in more constricted sites. This allows us to offer better engineered solutions to our customer base. The LTM 1040-2.1 fits nicely into this niche with its compact dimensions and the VarioBase allowing the machine to work in tighter spaces inside and out while still achieving class leading duties."
The company, which provides specialist lifting, moving and installation services across Europe, donated the use of its new LTM 1040-2.1 to the My Future My Choice children's outreach programme at this year's Vertikal Days event in the UK.