Coussens gets UK's first LTM 1160-5.2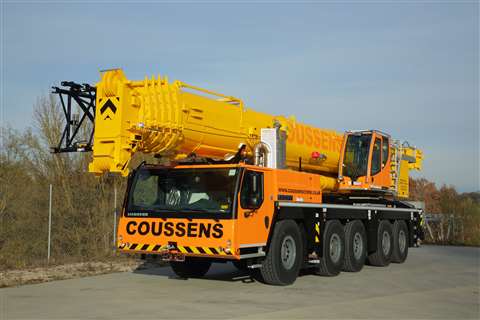 Crane rental and contract lifting company Coussens of Bexhill in East Sussex, UK, has taken delivery of the UK's first 160 tonne capacity Liebherr LTM 1160-5.2 wheeled mobile telescopic crane.
Capcity of the new crane is 20-25 % higher than its predecessor, the LTM1160-5.1, Liebherr said. The six section telescopic boom, with Telematik telescoping system, has remained at 62 metres long. Coussens opted for a 19 m folding fly jib for additional reach.
Paul Coussens, managing director at Coussens Crane Hire, said, "A lot of our business is in the lifting of mobile homes and modular buildings in tight situations. The Variobase coupled with the superior strength of the Liebherr crane over its competitors makes the 1160 the ideal choice for us. In the environments in which we operate the reduced noise and fuel savings of the Ecomode is a huge benefit."
The vehicle's reduction in width from 3 to 2.75 m means it is easier to drive on public roads and facilitates use on sites where space is restricted, especially when teamed with Liebherr's VarioBase system, which Coussens has chosen to include on its machine.
Power is from a six-cylinder Liebherr diesel engine which develops 400 kilowatts (544 horsepower) and torque of 2,516 Nm. It complies with the emission regulations of Directive 97/68/EC - Stage 4 in Europe and Regulation EPA/CARB – Tier 4 final in the USA.
A key claimed benefit of the LTM 1160-5.2 is the fuel economy provided by Liebherr's new single engine concept with a mechanical shaft ensuring a particularly high efficiency level whilst low engine speeds in the chassis engine provide sufficient power for crane work.
Fuel consumption and noise emissions are said to be minimised by Ecomode with the crane driver setting the required working speed and the Liccon2 control calculating the appropriate complementary engine speed.