Crane and truck first
By Alex Dahm08 November 2019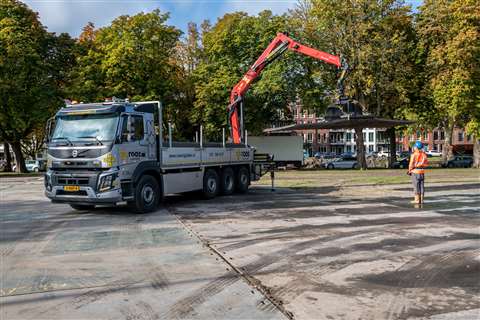 To improve its operations Roos Kunststof Rijplaten Rental from The Hague, Netherlands, has a new Volvo truck with an Epsilon crane, both operated remotely from one transmitter.
The temporary roadway company's new Volvo FMX 460 8 x 2 tridem truck is mounted with a 17 tonne-metre rated Palfinger Epsilon hydraulic loader crane. The vehicle is used for the installation and removal of large plastic temporary roadway sheets laid at events to protect the ground underneath. One remote control is used to operate both. It is the first Volvo truck in the Netherlands with this option, Volvo said. The customised solution was developed by the dealer, Volvo Group Truck Center, Palfinger and Drimote.
Bas van Nierop, Roos Kunststof Rijplaten Rental co-owner, commented, "The plastic road plates must fit seamlessly together, so it is important to lay them accurately."
It used to be that the driver had to use two different remote controls, one to operate the crane and the other to move the truck forwards and backwards. To simplify the work for the driver, van Nierop said he wanted to bring the operation of the truck and crane together in one remote control.
"We have been working with it for some time now and the experience is very positive," van Nierop continued. "This solution is particularly useful when installing road plates for events, often over large surface areas. The truck must be moved every two or three ramps. The fact that everything can now be done with a single remote control not only makes work easier for the driver, it also means work can be carried out faster and productivity increases."
Systems installed to ensure safety during operation include an object detection sensor to monitor the front of the truck and activate the brake when an object is detected. In addition, the vehicle brakes immediately if communication between the remote control and receiver is interrupted. An emergency stop button is also fitted.
Also fitted is the electronically-controlled Volvo Dynamic Steering power steering system and the I-Shift gearbox. The latter optimised with off-road software for better capability in the rough. Manouevrability is improved by the electro-hydraulically controlled leading and trailing axles, Volvo said, while the tridem configuration helps with axle load distribution.