Crawler crane pair new from Mait
By Alex Dahm22 October 2015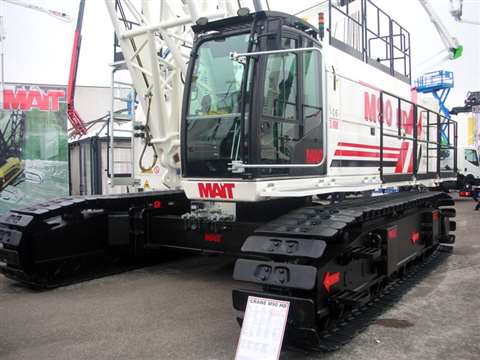 Italian crane and foundation drilling rig manufacturer Mait has added two new crawler cranes to its range. The lattice and telescopic boom models were shown at the GIS Show of cranes, transport and access equipment in Piacenza, Italy, from 1 to 3 October.
Larger of the two new models is the 90 tonne capacity M90HD, a heavy duty lattice boom crane that can be used for lifting but also clamshell, compaction, grab and dragline applications. It is an export machine, said Federico Tomarelli, Mait area manager. Maximum hook height is 57.9 metres. Capacity at 20 m radius on a 30 m main boom is given as 11.5 tonnes. Power is from a 403 kW Caterpillar C15 diesel. Line pull on the first layer is 235 kN and the maximum line speed is 100 m/min.
The other new model is the T28, a 28 tonne capacity telescopic boom crawler crane with 23.4 metre boom. Maximum sheave height is given as 25.64 m. It is designed to have minimal dimensions to allow operation in confined spaces.
Powering the T28 is a 129 kW Cummins QSB 6.7 diesel to Tier 4 Interim exhaust emission specification. Its 93 kN main winch is fitted with 20 mm wire rope and the 40 kN second winch has 16 mm rope. The T28 weighs in at 39.5 tonnes.