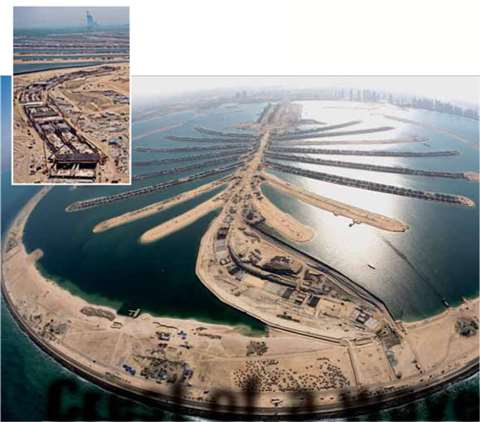 The Middle East's construction boom, arguably kick-started by the tiny United Arab Emirate (UAE) of Dubai in the late 1990s, shows no signs of abating, according to Paul Abbosh, development director for the Middle East region at consultant Atkins. Mr Abbosh toldiC the historically high price of oil, relative political stability, coupled with an attractive tax and legislative environment, and inward investment are what is driving the continued boom.
"I think many people have over-looked the amount of inward investment going into the region. There is some reluctance to invest in Europe and the US at present, so Arab investors are attracted by the relative political and economic stability of the region, and risk conditions they understand," said Mr Abbosh.
This inward investment is helping Dubai diversify its construction portfolio, said Mr Abbosh, while its leading property developers Emaar and Nahkeel, which started the process of city-style developments with Dubai's Palms, are exporting their vision outside the region.
"What is happening now is that the major developers are looking across and beyond the region. We're currently master planning several schemes worldwide and there are developments planned, or started, in North Africa, India, South Africa, Abu Dhabi and Saudi Arabia," said Mr Abbosh.
Regional expansion
Saudi Arabia's plans to built six "economic cities", including Emarr's Economic City, itself part of the US$ 27 billion, King Abdullah Economic City, will see it spend billions on its transport, water, and power networks.
Finalised recently is the US$ 2 billion, 850 MW Shuquiq IWPP (Independent Water and Power Project), the second of three initial government IWPPs, comprising at least 20 over the next two decades. The government has also signed designbuild-operate-transfer (DBOT) contracts with three consortia led by Saudi, Chinese and Australian contractors to build the US$ 1.9 billion, 1165 km long rail portion of the "Saudi Landbridge" (Riyadh to Jeddah, Dammam to Jubail).
This will link with the planned US$ 2 billion, 2400 km long North-South railway, which will primarily be used to transport phosphates and bauxite from mines in the north to Jubail in the south. Speculation is that it will then join the mooted US$ 20 billion GCC (Cooperation Council for the Arab States of the Gulf-Bahrain, Kuwait, Oman, Qatar, Saudi Arabia, and the UAE) wide rail network, which is currently the subject of a feasibility study by Germany's Deutsche Bahn International. There is also the matter of the planned US$ 300 million expansion of King Adulaziz International Airport in Jeddah, the first Public Private Partnership (PPP) for the Kingdom's civil aviation industry.
Domestic bliss
By far the most successful of Dubai's property developers, Emaar announced record revenues of over US$ 3.8 billion and net profits of US$ 1.7 billion in 2006, +68% and +35% increases respectively. It has also spread its wings across the region and beyond, with an estimated US$ 60 billion of projects in 14 countries, including Saudi Arabia, Pakistan, Egypt, India, China, Jordan, Morocco, Syria, Tunisia and Turkey.
In Egypt, where it is developing projects worth an estimated US$ 6 billion, Emaar has bought out the remaining 60% of its Egyptian joint venture property development partner Emaar Misr for an undisclosed fee, while in the US it bought homebuilder John Laing Homes in June last year. Of course, financing such deals has been made easier thanks to its links with Dubai's ruling family, the Maktoums.
While some may question the never ending supply of office and hotel space in Dubai Mr Abbosh doesn't perceive any drop in demand in the Emirate, mainly thanks to its more liberal property laws, which now allow foreign ownership. Atkins is currently involved in the construction of 10 towers in the country, including the Trump Tower and the Gateway Tower on the Palm. It has also just won the design contract for the Lighthouse Tower in the Financial District.
However, land is becoming harder to acquire. Emaar's US$ 8.3 billion Dubai land bank is almost exhausted. To cope with the next wave of demand, and fund its foreign campaigns, Emaar is issuing a convertible bond to government-owned Dubai Holding to double its land bank. Convertible to 2.36 billion new shares in five equal tranches, worth AED 27 billion (US$ 7.35 billion) at today's share price, the deal will give Dubai's ruler, Sheikh Mohammed bin Rashid al-Maktoum, and his government, a combined 51% stake in Emaar.
But, while the boom continues there are some problems to over come. Rents are rising by an average of +35% per year in Dubai, according to Mr Abbosh, school places are hard to come by in Qatar, while the construction boom that followed expansion of the European Union (EU) in 2005 means many European-based ex-pat workers are choosing to stay put. However, Mr Abbosh toldiC a more serious concern is the shortage of materials and materials is much longer. However, local materials suppliers are working hard to fill the gaps. Almost all the cement and stone used in the region now comes from local sources, although local difficulties continue. In Bahrain a recent shortage of cement, caused by a breakdown to a plant in Saudi Arabia, saw supplies coming in from as far away as the Ukraine.
Future opportunities
With the construction sector set for some spectacular expansion across the region many construction equipment manufacturers are either reporting strong sales or setting up offices in the region. Hans-Georg Frey, general manager of Liebherr Werk Ehingen (where mobile cranes and crawler cranes above 300 tonnes are built), toldiC the company delivered over 50% of the region's all-terrain cranes in 2005 and expects to deliver 70% in 2007.
Demand, said Mr Frey, has been driven by the region's economic growth, expected to be +6.1% in 2007, which in turn has been driven by the region's expanding infrastructure, especially ports, roads, airports and sewage networks. Mr Frey said he expects to see demand grow in the future thanks to the region's expanding oil and gas industries and the transport networks needed to connect the new cities currently being built.
Duty cycle crawler cranes, mainly used for foundation and land reclamation, are also in demand, according to Kurt Rudigier, branch manager, Liebherr-Werk Nenzing, Dubai. Apart from Dubai, Mr Rudigier told iC the company is also seeing huge demand in Saudi Arabia, Kuwait and Iran, and he estimates the company currently has 150 machines active in the region.
Italy's Marini is another company that has seen spectacular growth in the region recently. Spyro Papangelis, export manager for Europe, Africa and the Middle East (EAME), told iC the C company is currently selling about US$ 34 million worth of equipment per year, mainly 150 to 300 tonnes/hour asphalt plants, throughout the region.
The last 12 months, said Mr Papangelis, had seen a surge in demand from Saudi Arabia, Kuwait and Qatar. The company mainly supplies to local contractors, said Mr Papangelis, with plants currently at work on Abu Dhabi's US$ 6.8 million expansion and Dubai's Jebel Ali Industrial Zone.
The continued demand for equipment throughout the region has seen several companies set up off ces there recently, including Swiss-based asphalt plant manufacturer Ammann, Hitachi Construction Machinery and Terex.
Outlook
Demand for construction equipment is rising throughout the region as governments continue to expand their infrastructure networks in anticipation of the huge influx of foreign workers and their families to the new "cities" either mooted or under construction.
Governments are also moving away from old style traditional procurement fixed contracts to more modern forms, such as PPP and DBOT, making the region more attractive to foreign contractors.
With the region's economy expected to grow by over +6% in 2007, and the continued demand for oil and gas, abundant throughout the world, there are bound to be plenty of opportunities for construction equipment manufacturers and contractors alike.