Crown introduces heavy-duty outdoor forklift
By Lindsey Anderson29 September 2010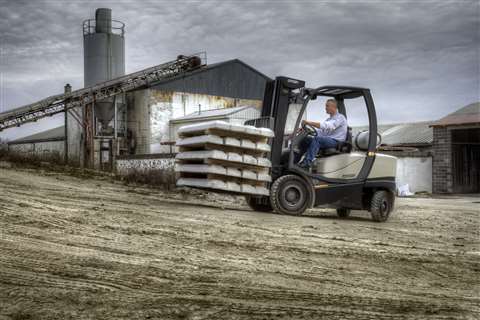 Crown Equipment Corp. has unveiled an internal combustion Class V pneumatic tire forklift designed for heavy-duty outdoor applicaitons. The Crown C-% Series is equipped with an industrial John Deere Power Systems engine, a dual open-core radiator, a long-lasting power brake and solid tires as standard.
The forklift is available in capacities ranging from 4,000 to 6,500 pounds.
"When we entered the IC market in 2009 with the Crown C-5 Series cushion forklifts, we were responding to our customers' requests for more durable and productive IC forklifts that were easier to maintain," said Jim Dicke III, president, Crown Equipment. "Now we are solving similar problems for the Class V market with the Crown C-5 Series pneumatic model. The unique challenges of indoor and outdoor heavy-duty applications require a different type of forklift than what the market has grown accustomed to using. The breakthrough features of the Crown C-5 will change a pneumatic forklift operator's expectation for performance and productivity."
Crown said the C-5 has 12 percent more low-end torque than some of its competitors, which improves performance during acceleration, working on ramps with a load and pushing heavy loads.
"Rough terrain and heavy loads such as lumber, stone and clay have challenged the confidence of the best forklift operators," said Andy Smith, marketing product manager, Crown Equipment. "Standard features on the Crown C-5 promote operator confidence in the toughest applications such as manufacturing, recycling centers, and brick and lumber yards. Durability starts with a robust steel frame that serves as the forklift's backbone. Performance is improved thanks to the John Deere industrial engine, dual open-core radiator, a self-adjusting power brake, and solid pneumatic tires that negotiate a wide array of uneven surfaces."