Crushing and Screening: Turning costs to profit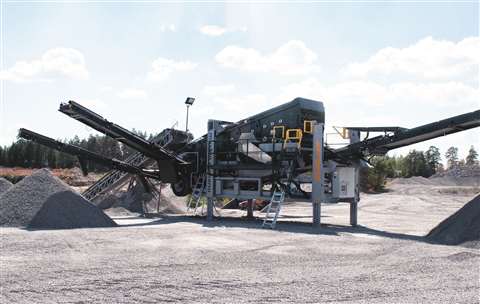 The process of crushing and screening enables contractors to size and separate waste material to make a quality product that can then be reused or sold, creating a profit. If the material is not recycled, this leads to deposit and transport costs emphasising the importance of this type of equipment.
For manufacturers of these machines, the challenge is to balance the often simultaneous requirements of cost-effective transportation, low noise emissions and an environmentally-friendly approach.
Crushing and screening manufacturer Keestrack said that research and development (R&D) is the driving force of the company. This comes after a long period of uncertainty for the industry as Michael Brookshaw, global distribution at Keestrack, explains. "A large change has happened in the crushing and screening industry with a market downturn from 2008 to 2016," he said. "We have seen the market coming back with a growth of around 15% per year since 2016. This growth is expected to continue, but at a reduced rate, until 2022."
Hybrid electric driven crusher

The manufacturer has launched eight new products over the past 30 months with a huge investment in hybrid electric drive units. Brookshaw said, "At the Bauma exhibition, we released four new machines and one prototype. Keestrack's main investment is in its R&D program – we have the largest hybrid drive electric drive range in the whole of the industry, with 90% of all machines hybrid drive or electric drive."
One of the new machines shown at the exhibition is the B7e crusher, said by the company to be its 700 tonne-per-hour flagship, replacing the smaller B6. The B7e has Keestrack's single-jaw CJ 412 jaw crusher with a 1200 x 830 millimetre (mm) inlet for feeding sizes up to 700 mm, and a wide hydraulically-adjustable CSS range of 75 to 250 mm. The crusher is only available as a plug-in hybrid and with constant and low engine speeds, even under full diesel-electric load, the B7e operates with low fuel consumption, the manufacturer said.
Keestrack states that energy-saving costs of up to 80% can be achieved in emission-free plug-in operation from mains or external gensets.
The manufacturer also unveiled its S5e solar tracked stacker at Bauma, said to be the 'world's first directly solar-driven processing plant'. Photovoltaic modules mounted above the 23 m-long conveyor feed a 23 kilowatt per hour (kWh) battery installed in the chassis. The battery powers all electric driving, lifting and conveying functions.
As well as developments in its manufacturing facilities – including a new plant being built in India due for completion by October 2019 – Keestrack is working on launching new products at the ConExpo exhibition in Las Vegas in March 2020.
Electrically driven screening

Sweden-based mobile screening manufacturer Maskin Mekano said that it has seen an increasing demand for its products in Scandinavia. Daniel Smedenman, CEO at Maskin Mekano, said, "So far in 2019, the demand for our largest screens has continued to grow – an indication that greater capacity is important for customers."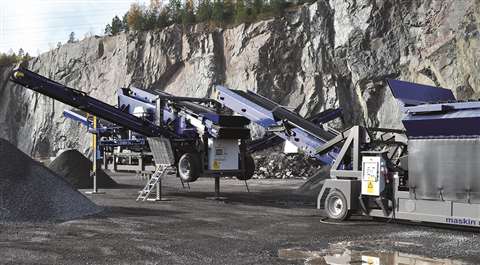 Its 1500 range of screeners – the two deck screener SH 1502 and three deck screener SH 1503 – were created to meet the demand for higher capacity, better screening accuracy, lower operating costs, less noise impact, smaller CO2 footprint and a safer work environment.
At the heart of the plants is a screen box range, measuring 1.8 metres x 5.2 metres, on two or three decks. It is an extension of the Maskin Mekano STE brand. The Vibro Box concept means the screen box is mounted on a vibration dampened frame, which prevents the vibrations from the screen transmitting to the chassis. Saving the machine from damages caused by vibration while the screening motion remains efficient, the manufacturer said.
All Maskin Mekano screening machines are electrically driven. Compared to hydraulically driven screeners, the CO2 emission is said by the manufacturer to be reduced by 80%.
In relation to how new technology has improved its screeners, Smedenman said, "The distribution box on our screening plants have been fitted with integrated touchscreens for an overview of the production and troubleshooting, that can be performed by anyone with internet access and a login."
As for the future, Maskin Mekano is currently adapting more of its products for European transport measures. The company also hinted about the possibility of some upcoming news in the crushing segment.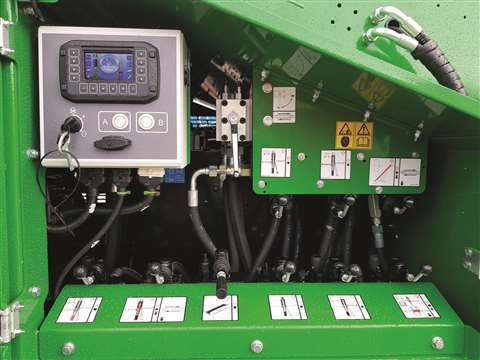 McCloskey International unveiled its largest screener to date at Bauma, Munich: the S250. Described by the manufacturer as the largest and most portable vibratory screening plants in production, the new model has a 2 bearing, 3 deck screenbox that is side-tensioned. The S250's hydraulic screenbox linkage system allows greater accessibility for screen change and has screen coverage at varying screenbox angles. The power unit has been simplified with access for maintenance and service in mind, the manufacturer said.
The first S250 was sold to London-based waste management company Sivyer.
The toughest tests
Paschal McCloskey, president and CEO at McCloskey International, said, "Reliability and durability in some of the toughest environments and applications around the world have become key to customers. Recycling has risen as an important industry and recycled concrete and asphalt are both applications that have risen rapidly in the market. Contractors can now crush and screen on site, avoiding tipping fees for oversize material, creating a product to resell and generate revenue. This has created the demand for mobile, portable, versatile equipment that can move from project site to project site."
McCloskey is launching a new range of cone crushers later this year.
Terex Mineral Processing Systems (MPS) introduced its new TG series of cone crushers in May with a bronze bushing spider bearing cone. The company said that this series will complement its current MVPX series (screw type cone) and the TC series (floating bowl cone).
Wayne VanAntwerpen, crusher technology product manager at Terex MPS, said, "The new range of TG spider bearing cones, being offered in both the large feed secondary and the tertiary configuration, will put us in a complete class of our own in the industry with no other OEM able to offer such a diverse and extensive cone crusher portfolio. With the inclusion of bronze bushing technology – the ability to quickly alter the eccentric throw of the cone – we can now open the door to the versatility that this new product brings to the table."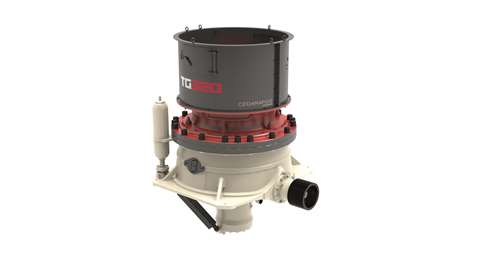 The range includes four models focused on the aggregate and recycle industries: the TG120, TG220, TG320 and TG420. Each model is available in two versions, the TG (tertiary) and TGS (secondary).
Superior Industries recently announced that a lifetime warranty now comes as standard with the new Patriot cone crushers. The no-cost extended warranty covers the cone's major components including the adjustment ring, bowl, eccentric, head, mainframe and main shaft.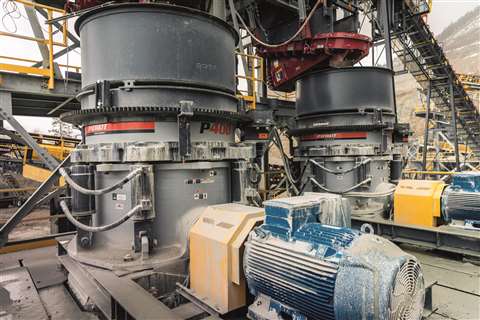 John Garrison, vice president at Superior, said, "By extending a lifetime warranty, our customers can concentrate on more important aspects of their operation, knowing we are there to support their crushing investment for a long, long time."
Blown away
Earlier this year, demolition and recycling equipment manufacturer Rockster released its latest mobile impact crusher: R1000S; said to ensure a precisely definable grading curve and easily definable final grain.
The new crusher has an integrated wind sifter, which removes lightweight materials such as styrofoam, plastic, textiles, plaster, foil or wood through a variably adjustable fan. This option is now available for all the manufacturer's crushers, said to increase the value of the final product 'significantly' by simply blowing away non-aggregates.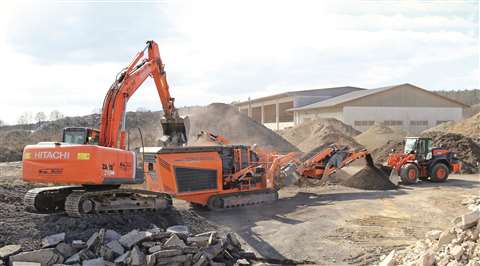 The R1000S has a continuously variable, fully hydraulic crushing grab adjustment with integrated measuring system.
Norbert Feichtinger, sales manager at Rockster, said, "In the mobile sector of crushing and screening equipment, flexibility becomes more important to reduce reaction times. Therefore, transportability is crucial, which changes the demand from manufacturers to transport dimensions and weight.
"Keeping dimensions compact and weight low gives easy transport as well as transport without special permissions. This allows crushing and screening companies to react quickly to different job demands. Beside transport flexibility, there is also a demand to adapt machinery easily to different applications by reducing set up times and allowing easy machine adjustment."
Speaking about the future at Rockster, Feichtinger said, "Machine operation will be improved further by new programmable logic controller (PLC) systems, while fuel economy will be enhanced by new drive systems."
FLSmidth, a company that specialises in the cement and mining industry, has developed a crusher based on a strike-bar system. The strike-bar crusher has been designed to help contractors to reduce the frequency of replacing wear items in crushers – including strike bars, liners and breaker plates.
To slow the wear rate of these consumables, the company has segmented strike bars that can easily be interchanged, rotated and repositioned. Interchanging between four different positions makes each strike bar usable for up to 50% of its original weight, FLSmidth said.
Rockster's new RS1000S crusher put to work in Sweden and Austria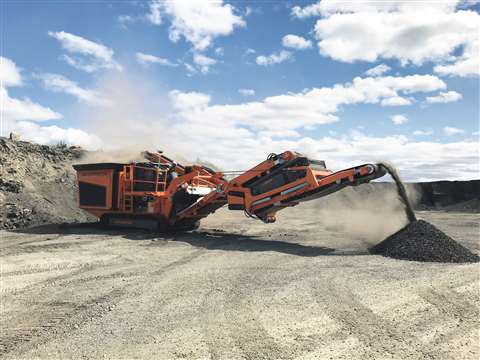 Sweden: Recycling company Swerock, one of Sweden's largest suppliers of building materials and services for the construction industry, has purchased a new R1000S Rockster impactor for recycling of demolition debris. Placing 'great emphasis' on the efficient reuse of construction waste, the company sees itself as an environmentally-friendly service provider and wants to contribute to the protection of raw materials and the reduction of waste.
Rockster's Swedish sales partner Niklas Johansson said, "High throughput of this compact machine, perfect transport dimensions and excellent access for maintenance have convinced my customers that the Rockster mobile crusher is the right one for them."
Austria: Known for the proper disposal of hazardous and non-hazardous waste, Herbst Entsorgungsgesellschaft in Eastern Styria has expanded its demolition and recycling division in Austria with a Rockster R1000S compact crusher.
Josef Herbst said, "The wind sifter is a totally worthwhile investment because I save the manpower that would be needed to do this dusty sorting job. Another advantage is that when processing asphalt, we used to produce high quality grader material using our own drum screen. Now, I can create a fine grain size 0 to 15 mm directly with the R1000S. Plus, we only need the excavator operator for the job because he can operate the crusher via remote control."
Crushing and screening in one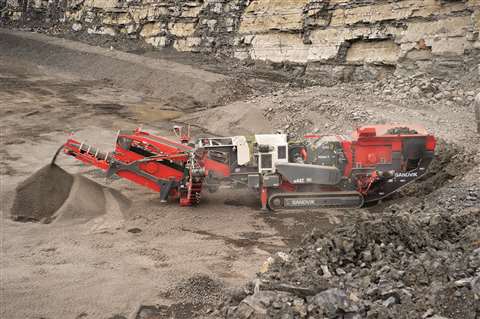 Mobile crushers and screeners manufacturer Sandvik recently launched its next generation 2 Series impact crusher. The QI442 model has the newly developed CI621 Prisec impactor, said to have improved efficiency and greater safety during maintenance – a new rotor position and locking device, new hammer locking wedges and a new wedge removal tool – as well as being able to operate in either primary or secondary crushing modes.
Sandvik said that the QI442 is a crushing and screening unit in one with the optional modular hanging screen system. It can function as a 1, 2 or 3-way split screener along with being a highly productive and efficient impact crusher. It can operate in open or closed circuit. The double deck hanging screen allows the machine to produce two screened products and recirculate the oversize back into the feed conveyor.
Making the job more simple
Kleeman, part of the Wirtgen Group, said it has seen a demand for tools that help increase the efficiency its equipment. The company's continuous feed system detects the filling level of the crusher chamber with ultra-sonic probes and regulates the feed of the material accordingly.
In a bid for simplicity, Kleeman has developed a new operating system for its crushing plants named Spective. Clear instructions and self-explanatory symbols support the user (even with no prior knowledge) in finding the right setting for each task, and is controlled by a dust-proof, splash-proof touch screen that can be read in difficult lighting conditions, the company said.