CTE investigates Platformers' accident
By Euan Youdale18 September 2018
Platformers' Days was marred by an accident on Saturday. The extended boom of a CTE MP 32.19 truck mount buckled while being operated with two people in the basket at about 10m height.
The accident occurred at 11:00 on the second day of the two-day show, taking place in Hohenroda, Germany. The two men were rushed to separate hospitals but, thankfully, they were considered well enough to be discharged the next day.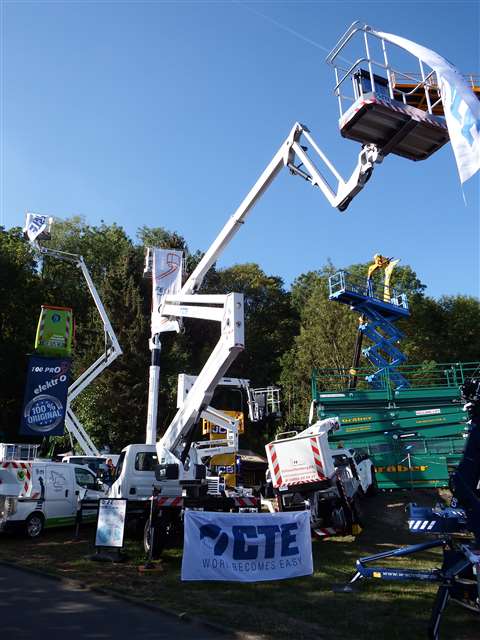 The basket did not hit the ground, but came to rest just above it. Show co-organiser Oliwer Sven Dahms said both men had been wearing harnesses, which had probably prevented worse injuries. "As it turned out, after intensive investigations, the injuries were much less than first suspected, so both left the hospitals after a short time".
He added, "The cause of the accident is currently unclear and subject to technical investigations; this will certainly take some time."
CTE has released a statement, confirming that it is co-operating with all relevant parties, including its stand partner France Elevateur. "We all at CTE SpA are very close to the people involved in the accident, which occurred during Platformers' Days. In these hours, together with our German dealer France Elevateur Deutschland, we are collaborating with the public authorities investigating the case."
The company added that more information will become available in the next few days. AI will report on these updates as they are available.
Sven Dahms and co-organiser Reinhard Willenbrock thanked the other exhibitors for their support. Following the accident they stopped all demonstrations of their equipment until the end of the show. "We thank the exhibitors and the understanding of the visitors. It shows that our industry, despite the competitive situation, is able to show compassion for industry peers in such situations."
Making a general point, Sven Dahms re-iterated the importance of ensuring all equipment was properly checked and tested and their operators appropriately trained before use. "Awareness of hazards and risks when working at height should always be followed, accompanied by good training. Equipment should be reviewed before use, with the environment taken into consideration."
Read about the latest products at the show in the accompanying on-line article.