CTE to showcase electric vehicle mounts
By Leila Steed05 June 2023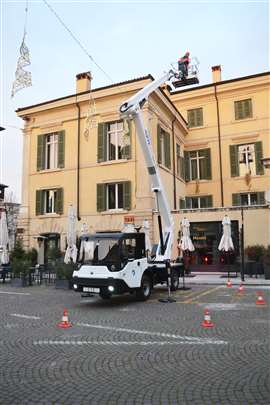 Manufacturer CTE Lift has revealed its product line-up ahead of the 2023 APEX exhibition, which starts tomorrow in Maastricht, The Netherlands.  
Describing the access equipment event as "a great international showcase ideal for the introduction of safe and sustainable products", the company will put the spotlight on its MP 20 Ev full electric truck-mounted platform.
One of the company's newest truck mounts and its first full-electric model, the MP 20 Ev is designed for applications on construction sites and can be used in places with noise and emissions restrictions, such as in inner city and historically/environmentally sensitive areas. 
The aerial platform offers a 20-metre working height, a horizontal outreach of 13m and a has maximum basket capacity of 250kg.
It is mounted on 3.5-tonne e-carry Green-G full electric truck that provides a travel range of up to 70km.
"The power supply system offers the advantage of being able to work entirely on battery or in 'plugged-in' mode connected to the mains with the supplied charging device," said CTE.
According to CTE, which recently expanded its Middle East footprint, the MP 20 Ev features a double arm configuration that includes one telescopic boom plus a jib.
The platform can be controlled remotely from a wireless console at ground level or from a console in the basket.
It is also equipped with the IAPA-award winning control system, the CTE S3 EVO.
A safety management system, the CTE S3 EVO ensures equipment users remain safe while maximising the performance of the MP 20 Evo. and also gives equipment fleet managers direct and optimized vehicle control.
"Thanks to S3 EVO, every single manoeuvre is controlled by the system which, through the graphics integrated on the display, indicates which manoeuvre is permitted," said CTE. 
"All this to ensure the operator can work in absolute safety. The stabilization, managed by S3 EVO, is variable and features front stabilizers with hydraulic extension of the crossbars to work in shape and out of shape and rear stabilizers fixed in shape.
The model also benefits from CTE Connect, which enables fleet managers to run diagnostics and set work parameters remotely, as well as to geolocate the vehicle even when in motion.
Other environmentally-friendly access machines on display at CTE's APEX stand will include the TRACCESS 160 E full electric spider lift, which is fitted with a 48V lithium battery, and the compact MP 24 C multipurpose truck mount.
The two machines are among CTE's newest models. It said, "Our main theme has been electrification: with the full electric models MP 20 Ev and TRACCESS 160E, we showed the best way to work with zero emissions, allowing applications in indoor areas or areas with limited gas and noise emissions.