Cummins highlights hydrogen at DP Summit, Utility Expo
Cummins Inc. will be highlighting hydrogen in construction at two leading industry events next week in Louisville, Ky.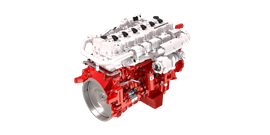 Jim Nebergall, Cummins Hydrogen ICE general manager, will kick the week off by participating in a panel discussion on hydrogen internal combustion engine (ICE) technology at the Diesel Progress Summit, which takes place September 24-25th at The Galt House Hotel in downtown Louisville. Hosted by KHL Group, the summit is an annual industry conference, networking event and awards program for the engine, powertrain and emerging power technology industries. This year's theme focuses on the "Technologies of Transition", including hydrogen ICEs.
In commenting on the energy transition, Nebergall stated: "Change is hard. Transitioning the off-highway and commercial vehicle markets away from carbon-based fuel is very challenging. There isn't a single solution that will accomplish this transition. The industry needs multiple solutions that enable carbon reductions today, tomorrow and in the future. Hydrogen engines can deliver on these needs and will play an instrumental role in the industries decarbonization journey. This versatile zero-carbon fueled technology integrates into existing equipment while providing diesel-like performance and maintenance practices. Hydrogen engines are the least disruptive technology for the commercial markets."
Cummins will feature an example of this technology in its booth (E715) at Utility Expo. On display will be the fuel-agnostic 15 L engine platform encompassing a common base engine with cylinder heads and fuel systems specifically tailored for hydrogen, natural gas, diesel and biofuels, including HVO. According to the company, the platform offers OEMs the opportunity to accelerate decarbonization of heavy-duty off-highway applications. Advantages include an increased power density in a more compact installation envelope.
The engine will be offered in ratings from 400 to 530 hp and peak torque of 2,600 Nm. For applications powered by renewable biogas, it will offer ratings from 400 to 510 hp with a peak torque of 2,500 Nm. The advanced diesel version will offer a broader power range of 450 to 650 hp, with 3,200-Nm peak torque.
Cummins Meritor will also be displaying products at Utility Expo (booth E715), including the MX-810 Axle and the MTC- MTC-4200AC Series Transfer Case. The MX-810 Axle is engineered for medium- and heavy-duty vocational applications and features a weight rating up to 24,000 lbs. The MTC-4200AC Series Transfer Case is the next generation in the MTC-4000 series of four-shaft, two-speed models (the MTC-4210AC, MTC-4210ACP and MTC-4213AC). The units have an all-new aluminum housing and do not require a separate auxiliary cooler in standard applications.