Custers crawler launch
By Euan Youdale02 October 2017
The newly-launched Custers Verda 12 is a track mounted double telescopic aerial work platform with a maximum working height of 12.3m and a lateral outreach up to 10.3m for the 4900kg version.
The platform is suitable for working on unpaved soil without the use of outriggers. The Verda 12 has proportional/simultaneous steering and is equipped with a strong three cylinder Yanmar motor-pump combination. The 360º continuous rotation combined with the 2 x 90º cage rotation make this machine very user friendly.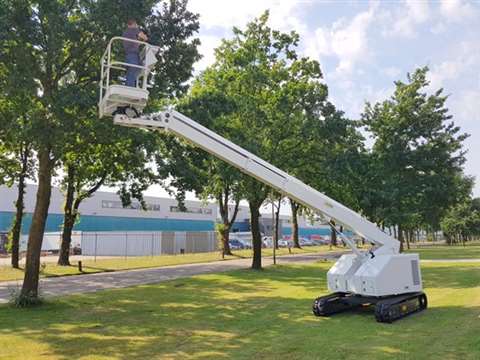 This platform with load dependent outreach is able to drive at height at a speed of 0.6km/h up to a maximum cage floor height of 9.3m. Its compact dimensions combined with a low weight starting at 3500kg are designed to make the machine easy to transport.
The platform has been developed for use in the industrial and construction sectors. The lighter 3500kg version is is suitable for pruning and other maintenance in the green sector.
Maximum load capacity is 230kg, while rotation is 360º continuous and basket rortation is 2 x 90º and basket dimension is 1.50m x 1.00m x 1.10m. Transport dimensions are 5.25m x 2.0m x 2.0m.