Custom Truck One Source develops its own ePTO
Custom Truck One Source (CTOS), a provider of specialty equipment, parts, tools, accessories and services to the electric utility transmission and distribution, telecommunications and rail markets in North America, unveiled a new ePTO solution at the Utility Expo taking place this week in Louisville, KY.
The Lightning PTO, which is being marketed through the Load King brand, is an electric PTO designed to power hydraulics used to operate utility equipment, including aerial lifts, digger derricks, air compressors, air conditioning, etc. Base models are rated 5, 7, 10 or 14 kW.
"This is a unit we designed ourselves. It has 18 patents on it," said Fred Ross, Custom Truck One Source founder. "We can power anything that runs on hydraulics. And it has the ability to charge itself as the truck drives, as the truck is running."
The standard charge while driving feature achieves 1% charge for every five minutes of driving time. When plugged into a standard 110VAC outlet, the batteries have an average five-hour charge time (eight hours if fully depleted), with optional quick-charge available. 
Adding the ePTO to utility equipment allows a truck engine to only run during transportation between jobs, resulting in lower diesel emissions, CTOS said. Users are also able to easily switch between the Lightning PTO and the regular PTO as needed.
"We use a redundant hydraulic system. The regular PTO stays on, the ePTO goes on in conjunction with that and if there is ever a time when you run out of electricity for some reason, you can still use the truck," Ross said. "Depending on how far they drive, it may charge itself back enough to run the next day. If not, if the battery's too far depleted, they use the regular PTO and as [they do], the battery is charging. So even in those situations, you should be able to use the battery 70% of the time even when there's no place to charge your battery."
The Lightning PTO is available on both new unit orders and for retrofit onto existing vehicles. Benefits cited by the company include significant diesel fuel savings, reduced CO2 emissions, maintenance cost savings, less hydraulic oil movement wear and tear and up to 85% noise reduction.
An advanced telematics and reporting dashboard accompanies the ePTO, providing users with data on fuel savings, CO2 emissions reductions and maintenance savings resulting from its integration.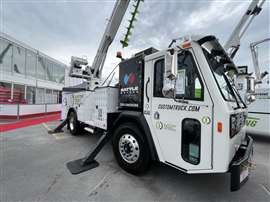 CTOS is also highlighting the company's partnerships with truck companies Peterbilt and Battle Motors to deliver electrification solutions. Shown at the CTOS booth was a Peterbilt Model 220EV fully electric chassis equipped with a Versalift VST-52 aerial and utilizing the Lightning PTO to enable all-electric hydraulic operation. Also in the booth was an advanced Battle Motors EV Truck equipped with the Terex C4047 Digger Derrick.
"We have a Battle truck here that I believe is the only all-electric digger derrick made," said Ross. "We also have a Peterbilt here with a 52-ft. bucket and it's all electric. It's now available and we're starting to use it, as well, for demos. And they're both complete electric solutions. We're very excited about that and we have several units that we've taken orders on and we're building some very specialized pieces for public utilities."