D&RI's memorable demolitions of 2019
By Leila Steed27 December 2019
With 2019 almost squared away and 2020 just a hair's breadth from reach, it's time to look back on some of the most memorable demolitions of the year.
D&RI's memorable demolitions of 2019
RVA powers ahead at Barking
The United Kingdom-based RVA Group oversaw the demolition of two 55 m (180 ft) high chimneys at Barking Reach Power Station, east of London.
Five 2,500 t boilers were felled using traditional demolition technique, as part of plans to give the site a new lease of life. Full story.
Bridge dismantled in 130 hours
Italian crane service provide Vernazza Autogru used a Demag CC 3800-1 lattice boom crawler to dismantle an old railroad bridge in France in just 130 hours.
The crawler, assisted by a Demag AC 120 wheeled mobile telescopic crane, removed a total of eight bridge components measuring up to 22 m (72 ft) long, 6 m (20 ft) wide and 8 m (26 ft) tall, and weighing around 115 t each. Full story.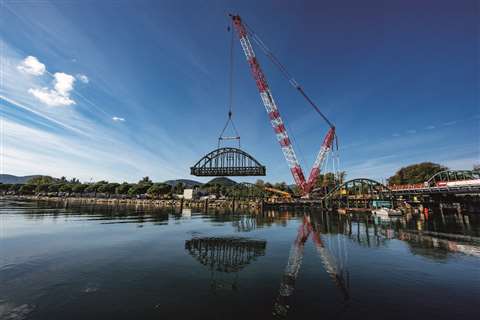 Bridge removed by crane
A Tadano ATF 400G-6 crane helped remove a 34 t bridge spanning France's Autoroute du Nord in a single lift.
The bridge – which measured 35 m (114 ft) long, 5 m (16 ft) wide, and 5 m high – was lifted in a single piece in one lift and set down at the rest stop in the construction site area. For this to happen, the overpass was fixed by means of a fourfold reeved double hook and enough spaced fastenings to counteract any load swing. Full story.
Rhodar powers through tower block demolition
Specialist enabling works provider Rhodar demolished three 18 storey tower blocks in Halifax using a high-reach excavator, UK, after an internal strip out phase involving 80 Rhodar operatives and lasting 40 weeks.
The tower block demolition formed part a regeneration scheme that aims to deliver improved transport, public spaces and up to 650 new homes in the area over the next five years. Full story.
Furniture store demolished

Metz Erdbau carried out the demolition of the former Wangler furniture store in Regensburg, Germany.
The building, which had stood empty for 10 years, was taken down by a 25-member demolition team via a controlled method using a Sennebogen 830 E demolition excavator. Full story.
Tallest excavator demolishes 11 storeys
Construction and civil engineering company Veidekke demolished what was said to be one of the tallest buildings in Oslo, Norway.
The company used a Volvo CE EC750E HR demolition excavator to knock down the 11-storey shopping centre, which was known as the House of Oslo building. Full story.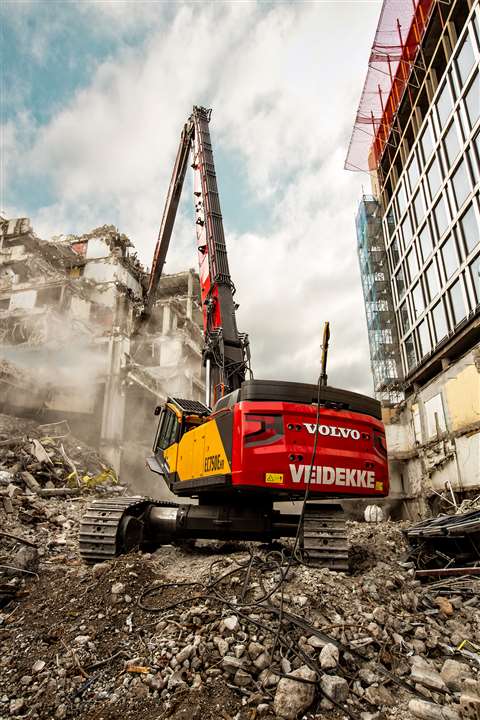 Historic war bunker demolition
An aboveground Second World War bunker in Hamurg, Germany, was demolished by contractor Abbruch und Verwertungesellschaft.
The company undertook a top-down demolition method, using a crane to install two Doosan tracked excavators with Erkat transverse drum cutters onto the roof of the bunker to begin the works. Full story.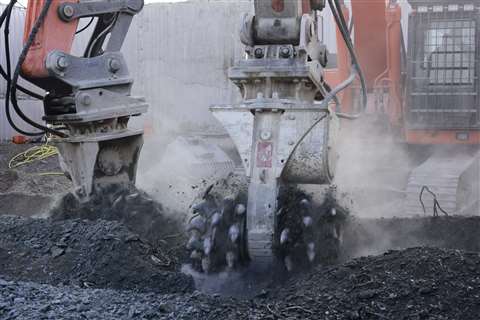 Coal-fired power plant demolished
Ontario Power Generation (OPG) demolished the powerhouse of the former Nanticoke Generating Station, located on the shores of Lake Erie in south east Ontario, Canada.
Once the largest coal-fired power plant in the world, Nanticoke's powerhouse was finally demolished more than a year after that of the plant's two 198 m (650 ft) tall smokestacks.
The facility took 11 years to build, measured 150,000 sq m (491,000 sq ft) and had a maximum generating capacity of 4,000 MW. OPG said that at peak capacity Nanticoke could power a city of three million people. Full story.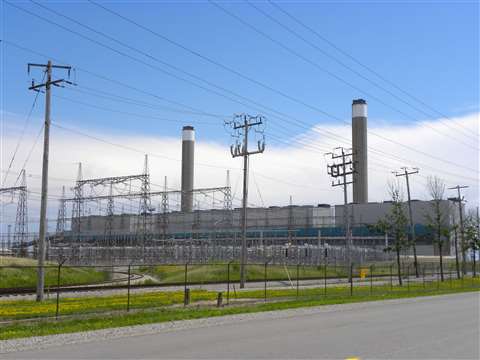 Football stadium demolition in Italy

The North Stand of the Atleti Azzurri d'Italia stadium in Bergamo, Italy, was knocked down by contractor Despe as part of renovation works to the venue.
The company, which at one point in the project demolished 3,000 cubic metres (106,000 cu ft) of reinforced concrete in just two days, completed the works eight days ahead of schedule. Full story.
Viaduct demolition by Wende Erdbau

Demolition works on the Langenschwartz Viaduct running between Kassel and Würzburg in Germany began this year as part of plans to replace the bridge due to increasing traffic loads.
Wende's 70-person demolition team took down a 326 m (1,069 ft) section of the motorway bridge, which was built in 1947 and measured 35 m (114 ft) high. Full story.