Dawes on multimillion dollar project
By Laura Hatton27 January 2015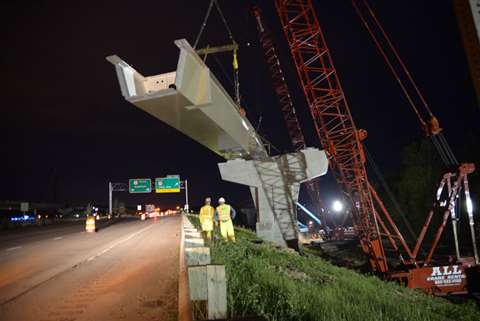 Dawes Rigging & Crane Rental, part of All Erection & Crane Rental in the USA, helped with the craneage on a $61 million highway project in Wisconsin.
The project includes the construction of several overpass bridges, traffic lane expansion, interchange reconstruction and 40 new roundabouts.
In total, Dawes used four Manitowoc 2250 crawler cranes configured with 100 metre main booms. Work for the crawlers included lifting loads above and across several traffic lanes. The cranes were also required to lift road construction equipment onto concrete support piers.
Scott Jerome, Dawes senior branch manager, said, "The 300 US ton capacity cranes were just what we needed for the large pick weights associated with many of the lifts, especially the prefabricated tub girder structures that weighed up to 120 US ton."