Day two of the World Crane and Transport Summit
By Laura Hatton05 November 2015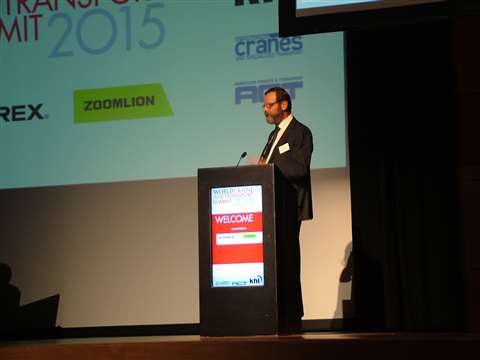 A focus on safety and developments in the crane and transport sector continues to be a theme of discussion as delegates attend the second day of the World Crane and Transport Summit. This morning's presentation was from Jussi Yli-Niemi, Havator Group CEO. His presentation focused on health and safety in the industry and the challenges for crane companies in the future. Following on from Yli-Niemi's presentation was an update from Ton Klijn, Wagenborg Nedlift managing director and ESTA board director. Klijn provided the audience with an overview of where the proposals for a European Crane Operator Licence (ECOL) currently stands and ways in which the scheme could be implemented into the industry.
Major developments in rope technology and implications for transforming hoisting performance was next on the agenda, with an interesting presentation from Dr Oliver Fries, WireCo World Group vice president of global research and development, innovation and technology. In his presentation, Fries looked at different rope applications and how to be cost effective when deciding what rope to use, particularly where the compromises are. He looked at wire, synthetic and hybrid ropes, with a brief introduction to smart ropes; quite possibly the rope of future. Fries took the opportunity to look at the problems associated with the different types of rope available for lifting applications, such as flattening, effects of temperature, UV influences and ways to protect synthetic ropes. He also looked at the cost of hybrid ropes and also approached the subject of discard criteria. A standard for discard criteria for synthetic ropes is not yet available for the industry, however this is something that rope manufacturers are working on, Fries said.
This afternoon's presentations include a round table discussion on industry recruitment, with feedback from members of the next generation of employees in the industry. Speakers include Marcus Chee, Bok Seng crane specialist, Thierry van Schaik, SSC Wind wind turbine installation and Koen Doorman, Mammoet junior engineer.
The event, organised by International Cranes and Specialized Transport magazine and KHL Group, is being held at the NH Grand Krasnapolsky Hotel in Amsterdam. Full reports on the conference will be published in International Cranes and Specialized Transport.
The conference is supported by industry associations including the SC&RA and ESTA, and GoldSponsors are Terex and Zoomlion. Silver Sponsors are Kobelco, Liebherr, Manitowoc, Scheuerle/Nicolas/Kamag and Tadano, with Supporting Sponsors A1A Software, Blokcam, Raymonville, Goldhofer, Modulift, Trimble and WiireCo WorldGroup.