Demag AC 500-8 girder hoist
By Christian Shelton19 October 2020
Virginia, USA-based crane rental house WO Grubb Crane Rental used its Demag AC 500-8 all terrain crane on a bridge replacement project in Lockhart, South Carolina. The task required hoisting and placing 30 concrete girders onto piers for construction of the new SC Highway 9/49 Broad River Bridge. The new bridge will replace a functionally obsolete 222.5 metre structure. The new structure is part of a US$20 million project to update multiple bridges in this area.
The crane was mobilised from WO Grubb's Greensboro, North Carolina, branch roughly 150 miles (240 km) to the project site. WO Grubb has owned its Demag AC 500-8 all terrain crane for nearly two years, during which time it has been used for a wide range of applications.
The crane meets axle load limits with 183.7 feet (56 metres) of main boom installed and travels to project sites at highway speeds reaching 50 mph (80 km/h), said Demag brand owner Tadano. Within a day, the company's six-man rigging crew had the crane, counterweight, Sideways Superlift, hook block and rigging material on site, staged and ready for rigging.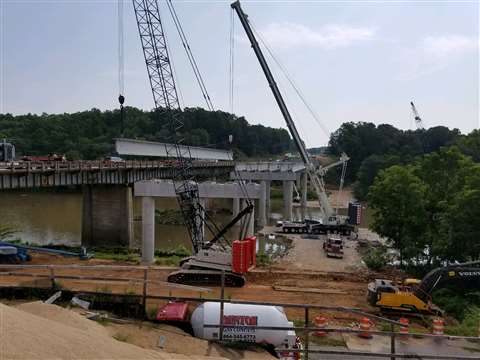 The next day, workers rigged the crane in its HA-SSL configuration with 180 tonnes of counterweight and had it ready to lift the girders. The Sideways Superlift was set to a 30-degree angle to provide the required lift capacity, especially when working at a long radius.
Over the course of the job the crane was derigged, moved and set up again four times. According to Tadano, its fast setup time helped facilitate this. Once the all terrain was in position, it completed all girder lifts planned for that location with working radii reaching 30.5 metres. Crew members then derigged the crane by removing the counterweight in preparation for the move to the next pad. The counterweight had to be removed due to the crane needing to travel across uneven ground and over the existing bridge. To help stay on schedule, though, the crew retracted the main boom and kept the Sideways Superlift and outriggers installed, enabling them to derig, move and setup the AC 500-8 in just one shift.
The girders lifted weighed 72.6 tonnes and were approximately 24.4 metres long. The AC 500-8 lifted the girders from transport trucks with the assistance of a 180 tonne crawler crane.
Up to 51.8 metres of boom was needed. With this configuration, Tadano said, the AC 500-8 had a capacity of more than 38.6 tonnes at its 30.5 metre maximum working radius.
WO Grubb was on site three weeks and completed the project on time.