Demarec and Hammer to merge
By Leila Steed14 June 2019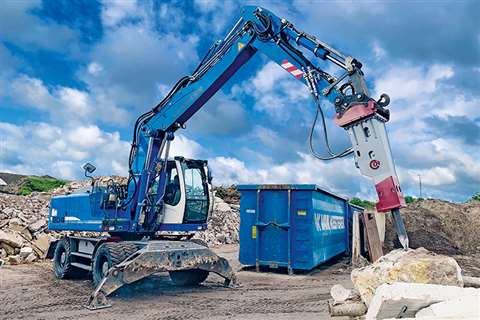 Kinshofer Group, parent company of demolition and recycling attachments manufacturer Demarec, has agreed a deal to acquire the majority share of hydraulic breaker manufacturer Hammer.
An Italian company, Hammer was established in 2004 as a family business by Giovanni Modugno. Now co-owned and run by his son, Valerio Modugno, it focuses on the development of hydraulic breakers up to 15 t self-weight and demolition tools that can make carriers more effective and versatile.
Marcel Vening, CEO of Demarec, said that Hammer was a perfect match and its full line complemented Demarec's product range in areas where Demarec itself lacked expertise.
According to Kinshofer the acquisition of Hammer is significant in terms of the company's growth strategy. It said that in addition to adding product segments to the group's offering, including a full range of hydraulic breakers and other demolition tools, that the merger would improve distribution channels for both Demarec and Kinshofer.
Thomas Friedrich, president and CEO of Kinshofer Group, said: "Kinshofer continues its strategy to provide the industry with a 'One-Stop-Shop' solution of outstandingly engineered products to increase efficiency and, more importantly, profitability of its customers. The acquisition of Hammer was the next step in our approach to be a global industry leader with solid local presence."
Valerio Modugno, co-owner and managing director of Hammer, commented: "The concentration of knowledge and competence will form a powerful centre for future developments customers can only benefit from. In particular the combination of both product ranges will create more ground-breaking innovations for the industry. The whole Hammer management team, which will stay on in its entirety, is very excited to be part of this mutual future."
As well as its own brand name, Hammer will now sell its product range under the additional brand names of Demarec and Kinshofer, depending upon which market they are offered.