Demolition and recycling equipment
Allu
Finland-based attachments manufacturer Allu premiered its new range of crusher buckets for the demolition and recycling and industries.
The Allu Crusher line comprises three models for 10 to 33 t excavators, one of which was on display at ConExpo in Las Vegas, USA.
The heavy duty attachment "opens like a clam" for easy maintenance and features reversible crushing to reduce jamming and blockages and a pin adjustment that allows operators to change the size of the output material.
The company, which also produces the Transformer line of screener crushers and the Processor range of mixers said the range was designed or hard rock and troublesome demolition materials.
Aquajet
The Sweden-based hydrodemolition machine manufacturer introduced the Ecosilence 3.0 (pictured below) to reduce noise and allow for a more compact job site, while enhancing environmental stewardship and lowering overall operating costs.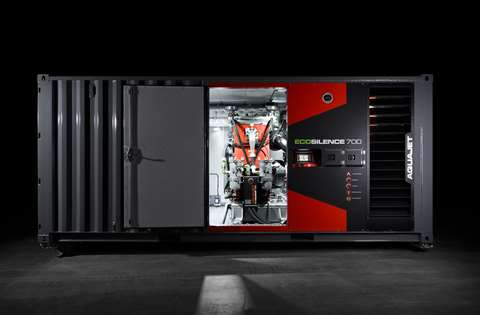 The product features integrated auto start/stop technology that improves fuel consumption, which saves as much as 25 litres of fuel a day for a smaller carbon footprint. According to Aquajet, the re-engineered Ecosilence is more compact, as well, with the entire self-contained system now fitting in a standard, 6.1 m (20 ft) shipping container.
It also produces less noise while in operation, making it suitable for use in urban areas with limited space and strict noise restrictions.
Avant (UK)
Avant (UK), the English subsidiary of Finnish compact loader manufacturer Avant Tecno, added the most powerful machine to its 8 series range – the Avant 860i Stage V (above). The largest of the Avant loaders, although still compact, it benefits from a greater lifting capacity of 1,900 kg (4,188 lb), a greater reach of 3.5 m (11 ft 6 in), and a turbocharged Kohler KDI 1903 TCR 42 kW (57 hp) diesel engine.
The machine also complies with the latest emissions regulations and boasts many additional features to previous models, including an improved GT cabin with better visibility and usability.
Bobcat
Compact equipment specialist Bobcat showed its E10e mini excavator for the first time at this year's Executive Hire Show in the United Kingdom. The machine (pictured above) is suitable for indoor demolition and basement projects as well as other low noise sites such as city centres.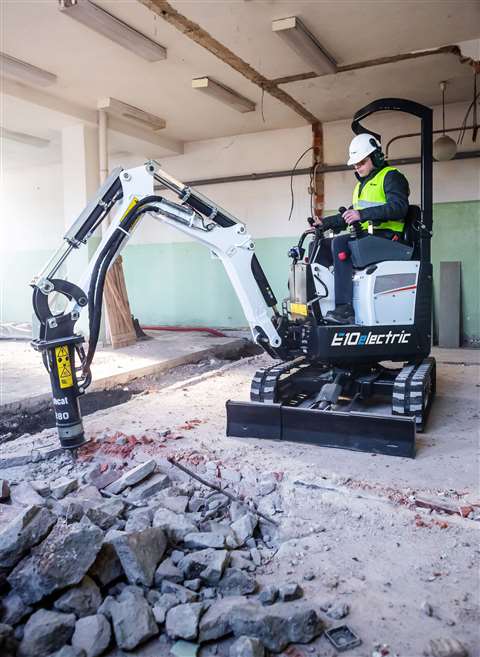 Developed at the Bobcat EMEA (Europe, Middle East and Africa) Innovation Centre in the Czech Republic, the E10e is based on the diesel powered E10, which has sold more than 10,000 in the past 10 years.
Brokk
The Sweden-based leading remote-controlled demolition robot manufacturer Brokk unveiled its new Atomised Water Mist for dust suppression applications.
The company says the new system produces atomised fog that effectively binds airborne dust particles while providing suppression at ground level.
In addition, the mist dissipates, rather than forming puddles, which Brokk said makes for a safer, cleaner job site.
Available for all Brokk remote-controlled demolition robots, the dust suppression offers a solution for combatting harmful silica dust in demolition applications.
Epiroc
Germany-based attachment specialist Epiroc added the CB 4500 to its popular CB Concrete Buster range.
The new model is designed for carriers in the 40 to 55 t weight class.
Epiroc says that due to their comparatively light weight CB Concrete Busters are effective choices for use with high reach or long front carriers for applications with highly abrasive material and low level of visibility of the product in operation. They are also suitable where noise is an issue and they can be used in residential areas where hydraulic breakers are not permitted.
EvoQuip
Leading compact crushing and screening equipment manufacturer EvoQuip introduced the Bison 160 hybrid hook-lift jaw crusher.
Described by the Terex brand as ideal for construction and demolition recycling applications and urban areas, this is the fourth model in the Bison series and the first to use hybrid diesel-electric drive technology to reduce running costs in addition to cutting noise and fuel emissions.
The dual-powered Bison 160 is equipped with a proven 700 x 500 mm (28 x 20 in) single toggle hydraulically adjustable jaw crusher.
Hitachi
Hitachi introduced a range of new high-performance hydraulic breakers that match its range of excavators in the range from ZX10 up to ZX890.
The company describes the breakers as ensuring maximum productivity, high performance and low total cost of ownership – while the slim design of the breaker is said to ensure easy accessibility in demolition applications.
The mono-block cylinder with a replaceable cylinder liner has been developed to reduce the number of parts in the attachment.
LaBounty
USA-based industrial tools and attachment business Stanley Infrastructure's LaBounty brand has added a new attachment to its demolition portfolio.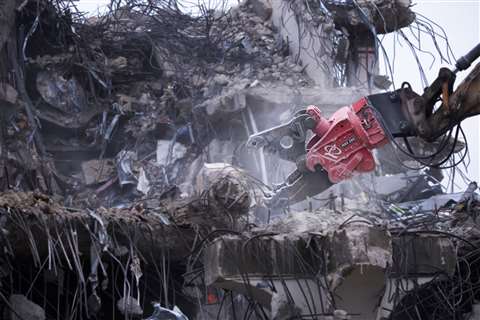 The Multi-Jaw Demolition Tool (MRX) is suited to both primary and secondary demolition applications as well as off site concrete processing.
Designed for efficient downsizing and equipped with 360° rotation, the MRX is described as having a short centre of gravity for optimal control and manoeuvrability.
It features an interchangeable jaw with options for a concrete pulveriser, concrete cracker or shear.
LaBounty has also introduced the Mobile Rotation Pulveriser (MRP) to its line up. Similar in design to the the MRX, it has a dedicated concrete pulveriser jaw.
McCloskey International
Crushing and screening specialist McCloskey International has expanded its mobile solutions with a new product range – shredders. The VTS95 is the first product to makes its debut for the company's new Recycling Division.
Designed for maximum performance and high productivity, McCloskey says the VTS95 tracked primary shredder is capable of effectively shredding virtually any type of material including solid, industrial, commercial waste and bulk waste.
It is designed to meet the requirements for plants in which the incoming materials vary greatly in terms of size, composition, and difficulty to shred.
Sandvik
Sandvik launched Peak Screening, a solution to help ensure every square metre of a customer's screening to be as productive as possible.
The company said its screening equipment, media and services are designed to work optimally with each other.
It added that customers will also benefit from having ongoing access to experienced specialists in configuration, optimisation and troubleshooting.
As a result, it has now introduced three ranges of screens, with solutions including the WX6500 tensioned rubber screening media with up to 15 times longer wear life than standard wire mesh, but with the same screening accuracy for superior productivity and uptime.
Trevi Benne
Italian company Trevi Benne has launched the FR 120 rotating pulveriser.
The new product has an opening of 1,655 mm (65 in), a weight of 13 t and a force on blades of 820 t.
It is part of the FR Series which the company says has higher performance and resistance to stress, stronger rotation, superior breakage efficiency and a longer lifetime.