Demolition and recycling machines to look out for at Bauma
By Lewis Tyler12 October 2022
As Bauma has now opened its doors for the first time since 2019, there will of course be a host of new equipment to feature that manufacturers are yet to reveal to the public.
So, here are five new demolition and recycling machines for  contractors to look out for at Bauma.
Fully electric impact crusher from Kleeman
Germany-based Kleeman is exhibiting the new Mobirex MR 130(i) Pro impact crusher to Bauma, where it will be seen for the first time.
The fully electric machine is used as a primary and secondary crusher and is said to guarantee low energy consumption per ton of final product.
As well as the MR 130(i), Kleeman is exhibiting eight other mobile and crushing screening plants to Bauma.
Hitachi's ZX400MC-7 demolition excavator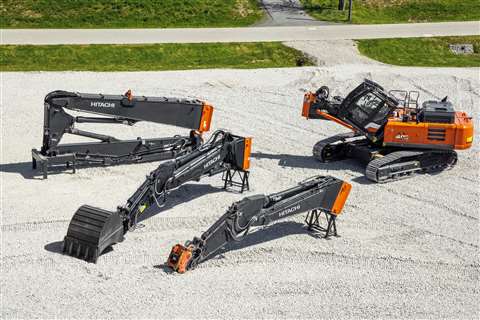 Hitachi has brought the ZX400MC-7 multi-carrier excavator for the demolition industry, which it developed alongside German company KTEG.
The machine is part of the company's 40 t medium weight class of excavators and is said to be able to complete the tasks of several onsite machines, due to four attachments.
The ZX400MC-7 has a high-reach demolition front of 21 or 24 m (68 or 78 ft), triple boom cylinder, extendable undercarriage for 360-degree working and longer track frame.
EW100 excavator from Wacker Neuson
The EW100 wheeled excavator from equipment manufacturer Wacker Neuson has made its Bauma debut this year, alongside the WL20e compact wheeled loader.
According to the company, the excavator, which has a 10 t operating weight, is able to perform tasks that would normally require a 14 t machine thanks to its traction hydraulics and high basic working capacity.
Technology is also an important aspect of the machine, with Attachment Management, Human-Machine-Interface and the preparation for diverse assistance systems and interfaces all included.
Epiroc's V-shaped drum cutters
Epiroc is showing the latest addition to its range of V-shaped drum cutters that were launched earlier this year.
The new cutters are designed for use in carriers in the 15 to 28 t range and according to Epiroc, the smaller model ensures no material is left untouched between the drums.
The company says the cutter can work with a variety of applications, including demolition, rock, concrete wall and surface profiling.
Bobcat's most powerful compact loader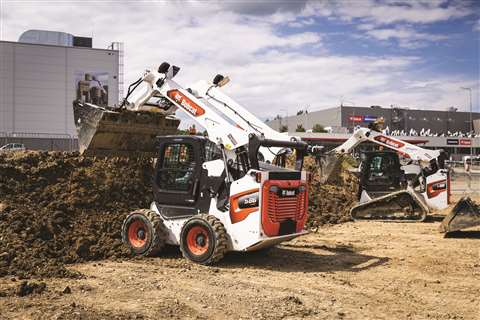 Manufacturer Bobcat is giving visitors the chance to view the S86 compact loader, which replaces the 700 and 800 M-Series loaders.
According to the company, the machine, alongside the T86 compact loader (which will also be launched at the show) is one of the most powerful compact loaders it has built.
Both machines are part of the R-Series range of products and have a Stage V compliant 3.4-litre Bobcat engine.