Demolition with precision in Munich
Precision and agility is required to demolish buildings and industrial plants. As a result, specialist contractor Sauer-Bau has decided upon the new Sennebogen 870 E Long-Front demolition material handler – a machine with a reach height of 33 m (108 ft) at 4 t load.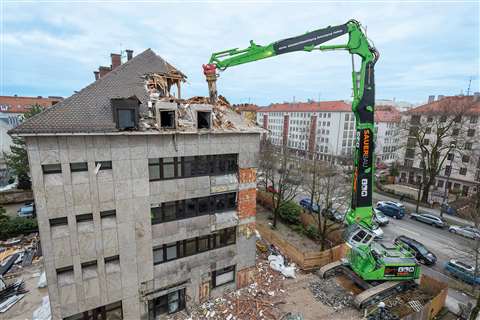 The first use of the machine was also highly symbolic, with the former Christian Social Union Party headquarters in Munich's Nymphenburgerstrasse giving way for a new building. Right in the tightly-packed inner-city zone, the building is to be demolished piece by piece and in this case Sennebogen says the hydraulic handler has considerable advantages.
Above all, in built-up areas buildings can be demolished without any vibrations. The machine can capture individual facade elements and entire building structures with pinpoint precision using the demolition shears or grab and bring the parts safely to the ground.
At the same time, the demolition material handler can also reduce and load the material on site. The cab can be inclined by 30°, elevated 2.70 m (9 ft), and has additional cameras. As well as its high reach, the Sennebogen machine has a reach width of up to 20 m (66 ft) with load capacities up to 4 t.