Denka pair sale in Norway
By Euan Youdale05 May 2015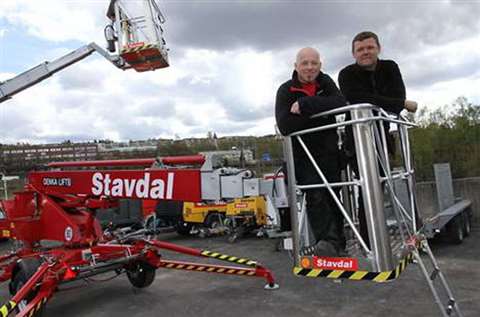 Stavdal Liftutleie, based in Oslo, has invested in two new DK18 Denka Lift trailers.
Ronny Aamodt, from RGA Liftservice which represents Rothlehner's Denka products in Norway, handed over the lifts to Odd Wollberg, service manager at Stavdal, in Oslo at the end of April.
Mr Aamodt said, "Norwegian Denka customers were waiting for new machines from this renowned brand since 2010. I am very pleased to see this positive development of our partnership with Rothlehner, and after two years we note an increasing demand for new Denka units."
He added the recent purchase by Stavdal Liftutleie confirms his belief that brand awareness of Denka Lift in Norway can be reestablished.
Mr Wollberg said, "We have plenty of knowhow with Denka lifts, it is a good product. We have just bought two units with 18 m working height and I am convinced that these machines will generate good results on the rental market."