Dieci announces telehandler pair
By Euan Youdale17 April 2018
Italy-based Dieci is launching two telehandler models at Intermat, the Icarus 50.18 and Pegasus 50.26.
The Icarus 50.18 represents the company's goal to increase loading capacity and lifting height of its fixed telehandlers.
The model provides 5 tonnes capacity and 18m height.The model can lift 5000kg and reach heights of up to 18m. It weighs in at 14500kg and is powered by an 85.1 kW Kubota engine that complies with Stage 4 emission limits.
The chassis has been completely re-designed, based on a new modular style across Dieci's machines. Designing new models with a modular concept allows Dieci to use the same subassemblies on machines from different product families, guaranteeing standardisation of components.
In terms of modularity, the new Icarus 50.18 uses an engine bay already developed for the Agrifarmer Stage 4 series, with a longitudinally mounted 85.1 kW Kubota engine and a DOC+DPF+SCR exhaust gas treatment system. The cab was developed with Giugiaro Design, and the tanks are already fitted to the Agrimax Stage 4 series. In addition, the boom assembly is derived from the high-performance Pegasus range.
The Icarus 50.18 has been designed for high efficiency. For example, the ECO function allows the vehicle to travel at top speed with the engine running at just 1900 rpm, with automatic management by the vehicle's electronic control unit in accordance with the power required by the operator. The DPF regeneration system, which has been completely updated in a project with Kubota, to make it automatic and completely masked for the operator, who can continue to use the vehicle without any loss of productivity while regeneration is in progress.
Dieci is also launching the Pegasus 50.26 at Intermat. Pegasus models are available with lifting heights from 16m to 30m and loading capacities from 3.8 tonnes to 6 tonnes. The new 26m model combines the new electronically managed Final Tier 4/Stage IV engines.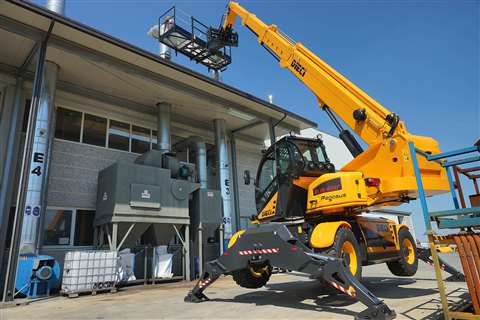 The machine is driven by a 4.5 litre diesel engine with a maximum power rating of 127 kW. FPT's NEF N45 Turbo Common Rail engine, in compliance with Final Tier 4/Stage IV emission regulations, makes it possible to combine lively performance and fast response to operator commands with reliability, simple maintenance and excellent fuel economy.
The new electronic hydrostatic transmission makes for top speeds of up to 40 km/h with precision control also of low speed travel movements. The transmission is combined with a separate inching pedal, likewise electronically controlled, and a servocontrolled two-speed work/travel mechanical gearbox.
To reach a lifting height of 26m the boom was designed from scratch, with four sections that extend simultaneously and proportionally. The chassis and turret are derived from Pegasus 45.30, the flagship vehicle in the Dieci range.