Dinolift and Rotator celebrate 40-year partnership
By Euan Youdale06 September 2019
Dinolift and its Finnish distributor Rotator are celebrating a 40-year partnership. And to mark the anniversary Dinolift is investing in its local university to expand its engineering courses.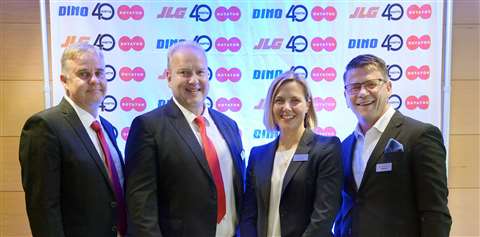 In the late 1970's the market for drainage machines in Finland was declining and Dinolift, then named Kurpan Konepaja, started the production of aerial platforms called Dino. At the same time Rotator was looking for new business opportunities. The cooperation between the two companies kick-started the Finnish MEWP industry.
Apart from offering safer and reliable machines with top level after sales services, key areas in the partnership is the development of products based on customer feedback and a shared interest in innovation.
To mark these common goals, Dinolift has made an educational donation to support the development of battery technology. The University of Turku has been given the go-ahead to expand its range of courses with masters degree programmes in mechanical engineering and material technology.
"Dinolift wants to support the University of Turku in its role to increase the vitality and attractiveness of the region by donating €4000 to create a new professorship of battery technology", says Veli-Matti Savo, commercial director of Dinolift. "Our strategic goal is to be the world's best manufacturer of lightweight MEWPs and we will need lots of expertise and new knowledge in developing further our product family."
Mika Hannula, director of Turku Science Park and Professor of the University of Turku, said, "Dinolift's donation is great evidence of the strong willingness of the companies in the Turku business region to further strengthen the research and education of engineering."