Dinolift celebrates 40 years
By Euan Youdale01 September 2014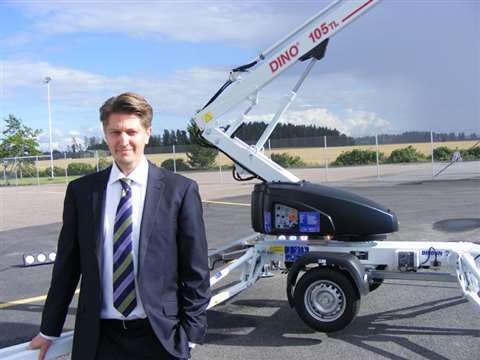 Finland-based Dinolift has celebrated 40 years in operation with a customer event at its headquarters in Loimaa.
The factory tour and dinner event at its premises on 28 August included a fun-packed evening of comedy and music.
During his speech at the event, Dinolift's new managing director Petri Paavolainen, who has been in the role for seven months, said, "We want to grow on our existing markets, enter into new markets, be the best company in our industry, have the most satisfied customers and we want to have the happiest personnel – all of this will require a lot of work."
He added, "We have many interesting products, based on your feedback, coming up in our offering, which we in fact are already developing."
See an interview with Mr Paavolainen in the September/October issue of AI, in which more will be revealed.
In 1974, Mauno kurppa, founder and owner of a company named Kurpan Konepaja, manufactured the first Dino trailer-mounted work platform in his small factory in Loimaa.
A year earlier Mr Kurppa had bought the rights to Dino from his business colleagues Pentti and Matti Ala-Nissilä and spent the following months developing the brand alongside other types of machinery.
Fourty years later Dino access platforms are the main product with the company name changing to Dinolift Oy in 1997 when Lasse Godenhielm bought the factory.
Today the owners are Mr Godenhielm's daughters Eva Godenhielm-Vuori and Karin Nars and its new managing director Petri Paavolainen, who is a minority shareholder.
Over the years Dino platforms have been sold to more than 40 countries and the product range has grown from two to 18 models across four products types, the main one still being trailers.
This year Dinolift introduced a new version of its 18 m trailer, the Dino 180XT II. The outreach has been extended to 11.2 m, while the basket rotation is hydraulic and rotates 180⁰ which provides more flexibility, said the company.