Dockside lifting: extended upgrade
By Alex Dahm07 September 2020
Extending the working lives of dock cranes through refurbishment and-or relocation has long been a feature of the global port business but, today, you just as likely to hear it described as a software update or upgrade.
Just as your smartphone or laptop requires periodic system updates, so are crane manufacturers offering to install the latest control systems on existing cranes, and not just on their own products. Konecranes Port Solutions, for example, is offering container terminal operators retrofitted intelligence systems on their existing container cranes. It says the crane technology retrofits are available worldwide and can be applied to any brand of container crane.
In a recent project, Konecranes worked for several years with South Asia Gateway Terminals (SAGT) in Colombo, Sri Lanka, on a retrofit involving 28 Doosan and nine ZPMC rubber tyred gantry (RTG) cranes in its container yard equipment fleet. Konecranes installed its Auto-TOS (terminal operating system) reporting smart feature. The company has already installed more than 35 such systems on non-Konecranes cranes at the terminal, and more than 1,000 Auto-TOS retrofits around the world.
Auto-TOS allows the crane to report its position to the TOS after every container move, making it possible for the terminal operator to maintain a container inventory that is up to date and accurate. Auto-TOS can be installed on any brand of container crane, and interfaces with any make of TOS.
The project was installation of 37 Konecranes Auto-Positioning reporting systems (one per crane), the TOS interface server, two base stations, and four spare systems. Also installed was Auto-TOS positioning software, which works through a DGPS (differential global positioning system) that interfaces with the terminal's TOS.
Chinthaka Abeynaike, IT general manager at South Asia Gateway Terminals, said of the project, "Data is increasingly becoming a key differentiator for our business. By adding this Konecranes technology to our entire RTG fleet we have dramatically improved our live-feed visibility over the yard."
Cindy Shi, Konecranes marketing manager, Port Services Global, says this type of retrofit allows container terminals to improve productivity and safety in manageable steps, "From smart features up to full automation, the path can include supervised operation and remote operation to smoothly introduce the power of automation… Full automation can be the final goal, but it doesn't have to be."
Proven approach
A more traditional upgrade is how you might describe the project by Nedcranes – helped by motors and drives specialist WEG – to deliver a reGroup of Logistics at its Railport Brabant terminal in Tilburg, Netherlands. It is the first container crane at the terminal, with units previously picked up by reach stackers. Storage capacity has also increased to about 500 containers.
GVT, which specialises in freight transport between the Europe and Asia, gave Nedcranes less than a year for the project, which required the dismantling of the old crane, a reduction of its track width from 41 metres to 27 metres, and repositioning the cab for a better view of operations. Also needed were renewed drives, new hoisting motors, and the installation of a new electrical house and frequency inverters.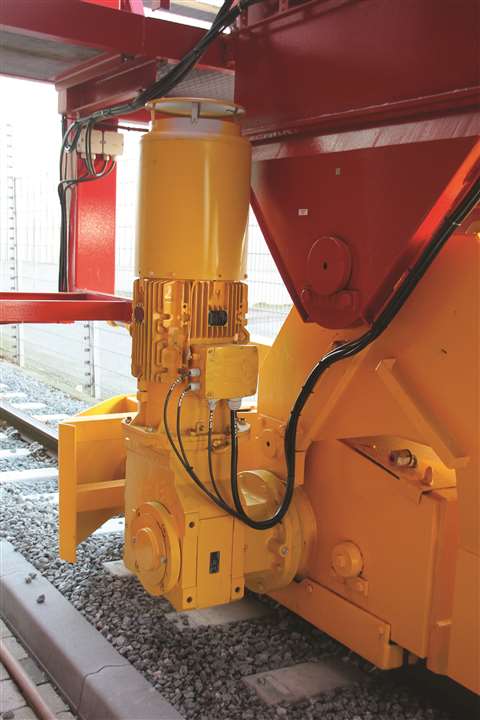 The electrical installation was completely redesigned, with Nedcranes opting for Schneider frequency inverters with an energy recuperation system. This system was developed to convert gravity and braking into electricity, to save energy. The medium-voltage installation was also completely renewed, including the 10 kV transformer.
The hoisting system was supplied by WEG, with direct current (DC) motors replaced with variable frequency drives (VFD) and alternating current (AC) motors. WEG selected four 30 kW motors for crane movement, two 22 kW trolley motors, a 7.5 kW motor for the lifting device and a 170 kW motor for the winch. All motors, except the winch, had gearboxes and mechanical brakes. In addition, the whole system is low noise, which was an important consideration given Railport Brabant's location near a residential area.
"In the crane market, you must find balance, not only in terms of energy, technology and costs, but also in terms of partners with whom you perform this type of large-scale project," says Hans Van Beijnen, senior project manager at Nedcranes. "Fortunately, we found that in WEG."
Major works
Refurbishment on a grand scale was the choice of Turkish port operator Yilport Holding, which contracted Konecranes to refurbish and recommission 23 cranes at the Port of Taranto in southern Italy, as part of its plan to create a Mediterranean shipping hub.
The contract includes recommissioning seven ship-to-shore (STS) cranes and 16 rail-mounted gantry (RMG) cranes that are inactive. Konecranes began the project in January 2020 and it initially will see seven STS cranes moved 100 metres down the quay. Several of the RMG cranes will also be recommissioned in the first half of 2020 and the remaining ones will be brought online by the end of 2020.
Relocation remains an important option for ports. Russia's FESCO Transportation Group relocated four Liebherr RTGs from Petrolesport in St. Petersburg to sister company Vostochnaya Stevedoring Company in Vrangel, in the far east of the country.
The transport along the Northern Sea Route, on the Nordic Svalbard vessel, took 28 days. It would have been 52 days via the Suez Canal. The weight of each 26.2 metre long crane was 117 tonnes.
During loading the cranes were mothballed and their electrical mechanisms hermetically sealed to allow erection and operation as quickly as possible after arrival. The crane trolleys weighing 27 tonnes each were dismantled and the components mounted on the vessel deck with specially manufactured supporting structures. On the deck and along the piers the RTG cranes moved under their own power.
The five-month project was by Liebherr-Rusland and customer Global Ports Group, parent of Petrolesport and Vostochnaya Stevedoring Co, which is shifting equipment between its terminals according to market demand. That is a case of both an upgrade and a relocation.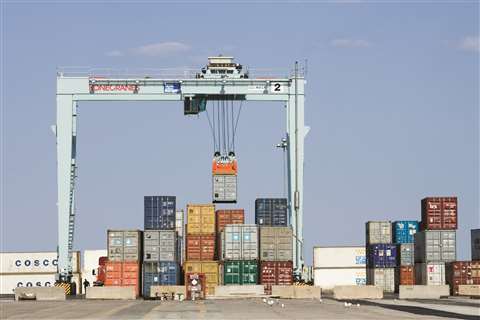 Konecranes USA has retrofitted its RTG cranes at the Port of Boston with new technology, including both drive and control system and Smart Feature retrofits
Automation at Oslo
Oslo Port Authority is to add three electric Kalmar AutoRTG (rubber-tyred gantry) cranes at its Yilport Oslo Terminal, Norway's largest container port.
The semi-automated cranes, with 50 tonne capacity, will be operated from a remote desk and will include an automated positioning system that helps the operator optimise productivity by concentrating on picking and placing containers only. The Kalmar One automation system enables customers to choose the appropriate automation level for their operations, regardless of equipment type, operation mode, supplier or automation level.
Kalmar said the system has been designed to help the container handling industry move towards standardisation, speed up automation deployment, shorten start-up lead times and simplify maintenance due to its modular architecture and open interfaces.
The new 50 tonne capacity cranes will operate alongside eight similar RTGs delivered by Kalmar in 2015. Under a long-term service contract, Kalmar has responsibility for all maintenance activities at the terminal, including management, service execution, logistics, spare part warehousing and 24-7 support.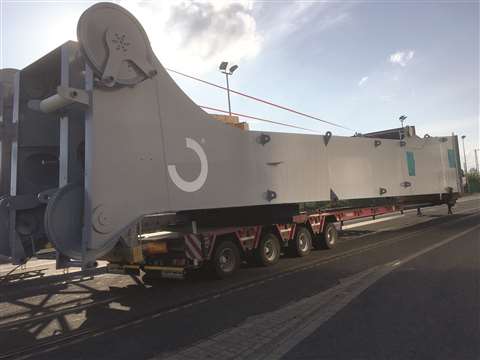 Recent orders
Rotterdam stevedore company RHB Stevedoring & Warehousing has added a Liebherr LHM 550 mobile shore crane for loading and unloading heavy lift, offshore and project cargo. Alongside its existing Liebherr LHM 600, RHB now owns the two largest mobile shore cranes in Rotterdam. The cranes have lift capacities of 144 and 208 tonnes.


Two jib cranes destined for DP World's Jebel Ali shipyard in Dubai are pictured (above) loaded onto the AAL Melbourne at the port of Taicang near Shanghai. The cranes were manufactured in China by Nantong Rainbow Heavy Machineries. There were 20 crane components, the largest weighing 550 tonnes and measuring 115 metres long.
Upgrading its terminal crane capacity is TCEEGE Konteyner Terminal I¯s¸letmeleri in Turkey. It ordered two diesel-electric RTGs from Kalmar, part of Cargotec. Handover is scheduled for the final quarter of 2020. The TCEEGE terminal is 55 km from the city of Izmir on the west coast of Turkey and has an annual capacity of 500,000 TEU (twenty-foot equivalent unit) containers.


SIR Servizi Industriali in Italy has ordered a second Konecranes Gottwald mobile harbour crane for the Port of Brindisi in south-eastern Italy. It was scheduled for delivery in May and commissioning in June and will handle mostly bulk but also general and project cargo.
Liebherr Container Cranes will supply one STS container crane and a rail mounted gantry (RMG) crane for Termont Montreal Inc in Canada. The new cranes will help increase capacity at Termont's Viau Terminal to 600,000 TEU. The cranes join five Liebherr STS cranes and eleven Liebherr RTGs already in operation there.
The Port of Cork in the Republic of Ireland has two new Liebherr post-panamax STS container cranes at the Cork Container Terminal. The port handled container traffic of 240,000 TEU in 2019, thanks in part to the new cranes. Traffic is expected to increase by more than 37 % over the next decade.