Doll to present Panther low-loader at IAA
By Laura Hatton14 August 2014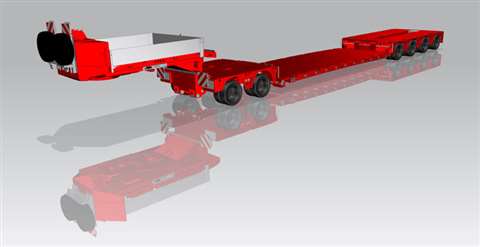 Specialized transport equipment manufacturer Doll in Germany will present the first Panther low-loader that can be converted into a semi low-loader at the IAA Commercial Vehicles fair 2014 in Hannover.
The 6-axle low-loader has a 2-axle detachable dolly and a payload of 70 tonnes. Its suspension travel is 405 mm, maximum steering angle is 55 degrees and loading height is 780 mm above the bogie. The dolly can be loaded on the low-bed after removal. The trailer is suitable for 3-axle trucks and has a CAN-bus operating system.
"The trailer can be modified into a semi low-loader with a loading height of 850 mm by lifting the extendible low-bed by 45 cm and mounting it between the dolly and the running gear of the rear axle" the manufacturer adds.
After the show, the model on display will be handed over to Sven Gläser from Zwickau, Saxony.