Doosan helps take down pipe bridge
German company Tilo Süptitz Transporte has used a Doosan DX255LC-5 narrow tracked excavator to demolish a pipe bridge crossing in Torgau, north east of Leipzig.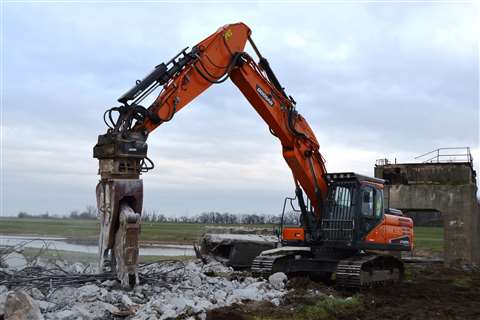 The original crossing was for a bridge connecting a former jetty on the River Elbe to the main pipeline on the Elbe dam, at a height of 100 m (328 ft, but the pier had not been used for a long time and it was removed using the Doosan machine.
In addition to the demolition of the bridge itself, the excavator also demolished the foundations and pulverised the concrete using a bucket, a 1.9 t hammer and a 2 t pulveriser attachment.
The work was completed, on schedule, in two weeks and the excavator was supplied by local dealer Ziesmann.
It features a water-cooled Doosan DL06P six-cylinder diesel engine with turbocharger, while the jog shuttle switch familiar to all new generation Doosan excavators and a new system that can be used to operate attachments via a joystick or a two-way pedal are also on board.
This is particularly useful in demolition when precision is required - the driver can keep full control of the excavator with the joystick while simultaneously controlling the attachments via the two-way pedal.