Doosan launches DL-7 wheeled loaders
Doosan Infracore Europe has launched the company's new DL-7 wheeled loader range, featuring Stage V compliant engines and focused on a lower cost of ownership for the operator.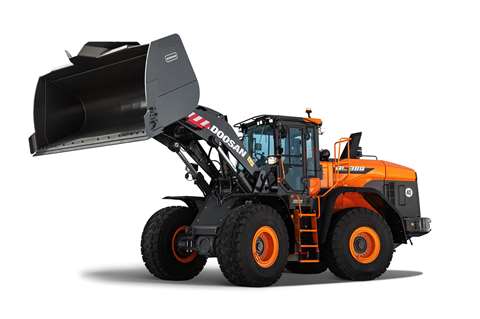 In this first phase, seven new models are being launched - the DL280-7, DL320-7, DL380-7, DL420-7, DL480-7, DL550-7 and DL580-7, with four more - the DL200-7, DL220-7, DL250-7 and DL420CVT-7 being added next year.
Charlie Park, CEO of Doosan Infracore Europe, said: "Doosan rolled out its first wheeled loaders in 1989. In the intervening 31 years, Doosan has continuously invested to maintain our position as a leading global brand within the wheel loader industry. Over that time, Doosan engineers have never stopped innovating and developing our wheeled loader range.
"Our new DL-7 models are the result of this endeavour and have been redesigned from the ground up. We listened closely to the needs of our European customers and revisited every single aspect of our existing wheeled loader product design to provide the solutions they wanted."
Doosan says the new range is the culmination of the first complete redesign of its wheeled loaders range in 10 years, with the exterior design, in particular being transformed. It has already won Germany's 2020 iF Design Award.
As well as featuring a new cab design and buckets with up to 7% more capacity than previous models, the new wheeled loaders have counterweight options including 300, 400 or 500 kg (661, 882 or 1,102 lb) depending on the application.