Doosan mini-excavator goes to town
By Steve Ducker24 May 2017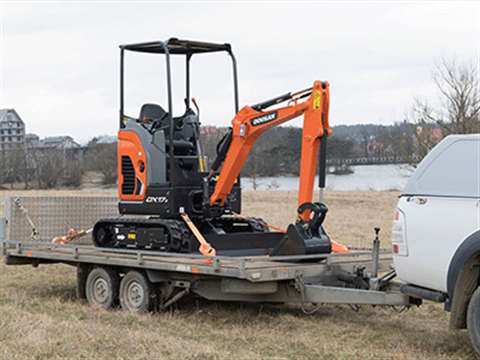 Doosan has launched the DX17Z mini-excavator for urban sites with limited space.
It is designed for applications requiring frequent mobility, compact size, powerful performance and a comfortable working environment.
The 1.7 t DX17Z is a zero house swing (ZHS) mini-excavator. It is said to offer easy transportability and more functionality than a zero tail swing (ZTS) machine, in that ZHS fully protects the front upper structure corners within the swing circle, providing 320° of free rotation while working close to any object.
The stability of the unit is based on a retractable undercarriage, an option long dozer blade and durable blade extensions.
This extra stability is essential for making maximum use of the digging forces and lifting capacities available.
Optimum stability is achieved by fully expanding the retractable undercarriage and using the long dozer blade. With the firm foundation of optimised stability and lifting capacity, Doosan says the DX17Z offers the highest versatility in operating a range of attachments.