Doosan opens new factory in Korea
By Chris Sleight25 October 2010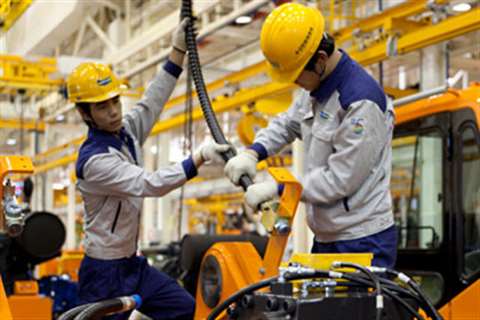 Doosan Infracore has officially opened its new 4000 machine per year production plant in Gunsan, in South Korea's Jeonbuk province. The plant will manufacture large construction machines, including six excavator models and four types of wheeled loader.
The company started work on the 610000 m2 facility in 2007, and has invested KRW 115 billion (US$ 102 million) in the plant. One of the principles Doosan employed when designing it was to build, "A plant that has three no's - no delinquency, no storage and no forklifts."
The no delinquency, or no mistake part is covered by automatic welding systems and double checks of fabrications. The need for storage has been done away with by sharing real-time production data with parts suppliers, while an automatic transport system has removed the need for forklift trucks. A company statement said, "Doosan Infracore plans to further develop and refine the Gunsan plant as the global standard for a production base."
The new plant has taken the company's global production capacity of Doosan-branded machines (i.e. excluding Bobcat and other brands) to 45000 machines per year. Other facilities include the 13000 machines per year factory in Incheon, South Korea, the company's 25500 unit capacity plant in Yantai, China and a 2500 machine per year factory in Frameries, Belgium.