Doosan's automated solutions
By Andy Brown22 November 2019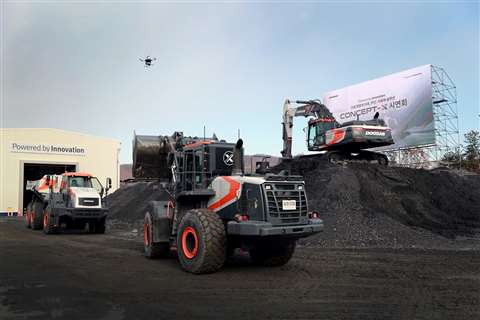 Doosan Infracore has unveiled the Concept-X control solution during a demonstration in South Korea – the solution is said to enable all dangerous construction work to be automated.
Concept-X can be used to survey worksite topography via 3D drone scanning, establish operational plans based on the topographical data, and operate construction equipment without human intervention.
With automated construction equipment already being used and increasing established, Doosan says that what makes this different is that it covers the whole range of operations on a construction site – ranging from surveying to the operations of construction equipment.
Concept-X comprises a wide range of technologies such as image recognition, cognitive/control technologies, autonomous driving technologies, 5G remote control, 3D drone surveys and workload estimation and assignment, together with failure prediction technologies.
The demonstration included a technology designed to create 3D worksite maps with drone-surveyed data; a technology enabling construction equipment to perform optimised unmanned operations; and a technology that makes real-time monitoring of work progress possible through the X-Center's control solution.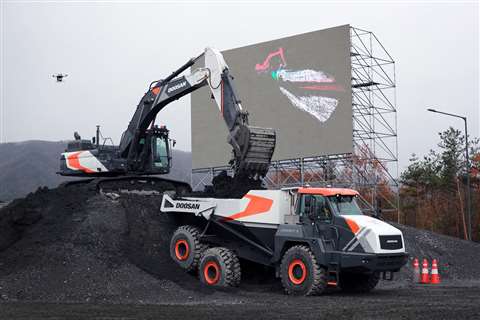 The solution is said to reduce the time and costs required for construction equipment operations, while improving construction worksite safety.
Doosan plans to commercialise Concept-X by 2025. Prior to this, each of the technologies – including drone surveying, data analysis, and unmanned construction equipment operations and control – will be launched individually as soon as they have been fully verified.
"Concept-X is not just an unmanned technology: Rather, it integrates multiple state-of-the-art technologies that can respond immediately to all and any of the changes that may arise at construction sites simultaneously," said Doosan Infracore President & CEO, Dongyoun Sohn.
"It will become a human-centred technology that not only brings about remarkable improvements in economics and safety but also creates more jobs in high-tech industries."