Double boost for ECOL
By Alex Dahm09 December 2019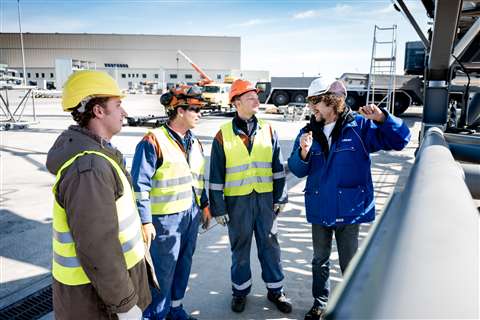 ESTA's European Crane Operators Licence project has received two big boosts.
At the end of the first week of December, ECOL was told it will be approved by the European Qualifications Framework. This means that ECOL will be an officially recognised European training standard for mobile crane operators and ECOL will have the right to add the EQF logo to its certificates.
The news came just days after ECOL signed a Mutual Recognition Agreement with the Dutch TCVT-RA, the organisation responsible for issuing crane operators' licences in the Netherlands. It means that from 1 January 2020 an ECOL licence holder can request a Dutch TCVT registration, assuming their ECOL licence is valid and has not been revoked. ECOL will now start work on expanding this recognition to Belgium and Denmark, before pursuing discussions with other European authorities.
The EQF approval is the result of many months' hard work. Earlier this year, ESTA applied to have the ECOL operator certificate registered and recognised by the Dutch NLQF qualifications framework. Through the NLQF it would be aligned with the EQF across Europe. Last week the NLQF agency confirmed that the EQF Assessment Committee has approved the EQF qualification of the ECOL standard for the level of EQF 3.
Ton Klijn, ESTA director and ECOL chairman, said, "This is very good news indeed and a marvellous early Christmas present for all ECOL supporters. Official EQF backing is further evidence of the professionalism and high standards underpinning this project.
Of the Mutual Recognition Agreement with the TCVT, he added, "This is also a very important and positive development. The fact that the TCVT-RA is supporting ECOL in such a positive way will hopefully lead to other countries following suit very soon."
* Klaus Meissner, director of engineering systems, product safety and IPM at Demag Mobile Cranes, has joined the ECOL Supervisory Board. He took the position following the resignation of Steve Filipov who stepped down in the wake of the Tadano acquisition of Demag from Terex earlier in 2019. Meissner is president of the mobile cranes product group of FEM, the European materials handling and lifting equipment manufacturers' federation.