Double Liebherr order for Dornseiff
By Laura Hatton11 May 2015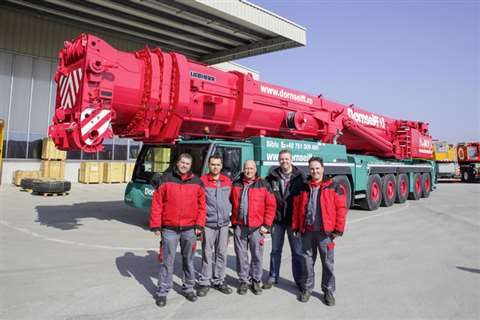 Crane service provider Dornseiff Autokrane und Schwertransporte in Germany has added two new Liebherr mobile cranes to its fleet.
The new additions are a 500 tonne capacity LTM 1500-8.1 wheeled mobile telescopic crane and a 250 tonne capacity LR 1250 lattice boom crawler crane.
The eight axle LTM 1500-8.1 all terrain type crane was ordered with a 50 metre telescopic boom and a 91 m lattice boom. It will be located at the company's Sibiu site in Romania and will be used for infrastructure and wind power projects.
Frank Domuradt, Dornseiff Romania managing director, said, "The LTM 1500-8.1 is a time-tested machine with sophisticated technology for universal use. One of the very important points for us is that Liebherr is also present in Romania. Liebherr's service network is globally established."
The LR 1250 from Liebherr-Werk Nenzing will be located at the Olpe site. When configured with a luffing jib the crawler has a maximum hoist height of 140 m. Wolfgang Dornseiff, managing director, said, "This crane provides very high load capacities on its luffing jib. What's more we can react to a very wide range of site profiles due to the crane's very flexible set-up and using its hydraulic track adjustment."