Drilling: better efficiency, lower noise
By Construction Europe11 June 2008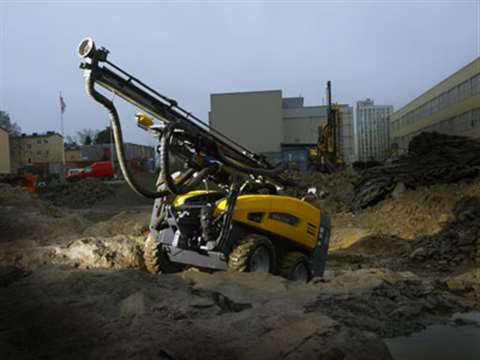 Better efficiency is a key aim for any area of construction, but the drilling sector is showing this can be achieved at the same time as better environmental performance - particularly noise reduction. CE reports.
Drilling straight holes, while burning less fuel, making less noise, producing less dust and providing operators with a comfortable, vibration free environment is a formidable feat of juggling. These environmental concerns are being taken more and more seriously by manufacturers, a fact reflected in the latest equipment on the market.
A spokesman for Sandvik said, "The latest models emit fewer engine emissions and produce less accumulated noise, many models now require no tool greasing and the addition of a patented sealing system ensures that hydraulic oils do not find their way into the ground."
The new Sandvik NoiseGuard muffler system, for example, is developed for surface top hammer drilling, significantly decreasing the level of drilling noise and therefore meeting ever-increasing noise restrictions in urban areas. With a suppression capacity of -10 dB, meaning considerable reduction in noise levels on site and its surroundings, the system also lowers cabin noise levels by -8 dB, making the operator's working environment more pleasant.
It is a system with similar benefits to Atlas Copco's 'Silenced' rig system that was released in late 2005 for its ROC D7C and D9C 'SmartRig' top hammer surface crawlers. Like the Sandvik system, Atlas Copco's silencing package provides a -10 dB reduction in noise.
Teamed with the company's 'SmartRig' system, this adds up to an impressive machine that is both productive and quiet. The core of the SmartRig system is Atlas Copco's Rig Control System (RCS), an intelligent computer system that adjusts the drill's performance to the ground conditions it encounters. This makes for less wear and tear on the rig as well as consumables like the drill steel.
Sandvik's muffler system consists of a hood and insulation for the rock drill. The plates stay in place even in heavy vibration, blocking echoes and moisture. The hood covers the feed only, weighing 450 kg and not affecting the rig's stability, and can be removed if not needed at a particular site.
The system has recently been used at a maternity hospital project in Sweden by local contractor Norbottens Bergteknik. "There are strict noise regulations at the hospital area," said Wolf Carlsson, Norbottens Bergteknik owner. "And without the NoiseGuard system we would have been unable to meet those requirements. In the future there will be higher demands for noise suppression, in particular in residential or office areas, and a -10 dB decrease in the noise level really makes a big difference."
"We have focused on the long-term development of safety at work as well as of environmentally friendly procedures in the manufacturing process and the products themselves," said Pasi Julkunen, global product line manager for Sandvik's top hammer drills.
"Noise and dust are the most challenging opponents in this fight. We have gone through mechanisation and automation of dangerous tasks but those are sort of inbuilt processes that are taken for granted. Networking with universities and research institutes has played a key role in all development in this area. It is utterly important to build and utilise this kind of network.
"Another important area in developing environmentally friendly solutions to construction sites is dust control. For top hammer drilling we provide a Dust Mizer system that binds dust by spraying a water and natural agent mix into the rock drill flushing air, transforming dust into harmless damp and grainy soil. We have strongly addressed safety issues in our equipment development.
"Every new machine generation adds in new safety features: the stability in our machines meets the highest standards, regular maintenance points are at ground level and fuel consumption has been taken to a low level. And the latest development is the use of simulator-aided training, which is an excellent way for training operators to use the machines in a safe and fuel-efficient way. At the same time, the actual training takes place in completely safe environment where the operator is not exposed to any risks," he concluded.
Product development
Atlas Copco has launched a number of new hydraulic rock drills for both surface and underground applications, with the COP 1640 one of the latest to enter the market- described by the company as "a rock drill optimised for tough drilling in small to medium sized surface applications."
"It is an extremely efficient machine, providing high penetration and optimised productivity in the most challenging drilling conditions," said Frederik Oberg, Atlas Copco's product portfolio manager for rock drills. The COP 1640 features three stroke settings that can be adjusted according to rock conditions, ensuring maximum penetration rate whatever the rock type.
Also new from the company in the COP 1240, its upgrade to the COP 1238 rock drill. A best seller for over 20 years, the COP 1238 is mounted on the boom of many Atlas Copco rigs. The new drill has been specifically designed for surface drilling applications, and has a larger, more durable driver, which helps to reduce wear and tear, and keep operational costs low, while allowing the efficient drilling of holes in the 40-120mm range.
The company describes the design of the COP 1240 as uncomplicated, with easily accessible parts making it simple to maintain, which also contributes to its low operating costs. It shares the same robust housing as the larger COP 1840 and there are three shank adaptors to chose from, depending on the specified drill steel; R32, T38 or T45, with the latter two available with extractors.
In terms of rigs, Atlas Copco has launched a new compact machine. The ROC T15 is its smallest hydraulic surface rig, and is designed specifically for small construction jobs, dimensional stone industry and unique applications such as self drilling anchors, bolting holes and boulder blasting. It offers a coverage area of 18 m2 but is small enough to be transported on a small truck thanks in part to a boom that can be folded onto the rig.
The ROC T15 comes with a radio remote control for tramming, drilling and boom functions, which helps keep the operator at a safe distance. The rig's design also enables fast and safe movement on rough terrain, and can be equipped with a hydraulic winch that has a variable line pull for working in extreme conditions, where it is necessary to anchor the rig or secure safe tramming.
In the rotary drilling sector, one of Boart Longyear's latest machines is the DeltaBase 102. The new design of articulation with a rotating and slewing jib boom is a unique feature of the machine, as is the patented clamp assembly. The swivel head and mast carrier are connected by a scissor mechanism allowing the drill mast to be turned left and right relative to the chassis.
"The technical design for the anchor drilling provides an extendable mast, making it possible to drill even in restrictive local conditions," said a spokesman for Boart Longyear. "The machine is equipped with a modern load sensing hydraulic system. The pendulum crawler and the sound proof insulation cover are standard."
Advantages of the new machine, according to the company, include its compact design, minimised centre height, ergonomic control panel, a control position with free view of the drilling, up-to-date loading hydraulics, a compact double-head drilling unit and an extendable drill mast. The fact that the mast is divisible means the rig can still be used in low headroom areas.
New in the down the hole (DTH) sector are Rockmore International's latest ROK hammers. These feature an improved design unique to Rockmore using sonic flow technology. The company says this increases airflow efficiency within the hammer and ensures that the high pressure air paths are optimised to deliver the greatest amount of energy to the piston.
Rockmore also says it has reduced the number of components in the design of the ROK hammer itself, while still producing greater impact energy to the bit, higher penetration rates and an overall better hammer performance.
Juggling
A common feature of all these new products is that include improvements on the machines they replace. That is to be expected - there wouldn't be much point in launching a machine that was worse than its predecessor.
The important point is that manufacturers are achieving these gains, while improving environmental performance too. New drill rigs are fitted with low emission Stage IIIA engines, and noise is also being tackled by systems like Sandvik's NoiseGuard muffler and Atlas Copco's longer established silencer.