Drilling: Digging deep
By Sandy Guthrie12 July 2017
Recent changes to drilling machinery is leading manufacturers to claim that this is leading to a totally new way of thinking about drilling and related processes.
Sandvik, for example, said that upgrades to the productivity and economy of its Pantera DPi series surface top hammer drill rigs had taken them to a completely new level.
It said new Sandvik digital technology was opening up a whole range of opportunities to be more efficient, to know how to control the whole drilling process.
The I-series torque control system together with Sandvik stabiliser rock drills were said to guarantee continuously high productivity and hole accuracy. The company said that the stabilised rock drills HF820T, HL1060T, HL1560T and RD1635CF ensured hole straightness, with easy-to-open couplings and increased lifetime of drilling tools, no matter what the rock conditions.
To optimise its drilling performance the Pantera DP1100i is now available with a high frequency RD1635CF rock drill with circulating shank lubrication system (CSL) that is said to guarantee fast and efficient penetration. In CSL, oil is circulated through filters and reused, rather than just collected.
Jarno Viitaniemi, product manager, surface boom drills, Sandvik Mining & Rock Technology, said, "The new CSL system reduces shank lubrication oil consumption by up to 70% compared to the old system, and increases significantly the life time of coupling sleeves.
"The drill rig has really been redesigned with economy in mind. It has also been enhanced with a new compressor control system that provides even better fuel efficiency."
Two Liebherr drilling rigs – an LB 28-320 and an LB 36-410 – are being used for deep foundation work as part of the Airbus Defence & Space plant extension in Immenstaad am Bodensee, Germany.
Kurt Motz Baubetriebsgesellschaft is the company carrying out foundation work for a new production building for the Integrated Technology Centre (ITC) at the premises of Airbus Defence & Space, a division of the Airbus Group.
The two Liebherr drilling rigs are part of a package of six new Liebherr LB devices for Kurt Motz. The official handover took place directly on the Airbus jobsite.
Using Kelly equipment, the machines are installing cased drilled piles for the foundations of the new building, which is an extension of the technology centre and measures approximately 70 x 60m. The single piles are 40m long and have diameters of 750 and 900mm. Foundation work involves a total drilling length of 7,900m.
Rotary drives
The Liebherr drilling rigs on site in Immenstaad were equipped with BAT 320 and BAT 410 rotary drives.
Liebherr said that the BAT series of rotary drives provided the necessary torque "for a multitude of drilling applications". The automatic torque regulation and the continuous speed optimisation are said to react flexibly to different soil conditions. The company said this ensured optimum drilling progress.
It said an advantage of the LB 28-320 and LB 36-410 drilling rigs was their smooth and precise control. The electro-hydraulic proportional control is said to enable several movements to be carried out simultaneously and with utmost precision.
Meanwhile, a Liebherr LB 24-270 drilling rig has been being deployed for the expansion of the container terminal in Gernsheim, in the German federal state of Hessen, and a particular challenge for the project is that the port operations must be ensured at all times during the course of the construction work.
The work includes the installation of a new gantry crane, the construction of storage spaces for cooling containers and the modernisation of the complete storage spaces and roadways.
Foundation work for the port expansion is being carried out by the German deep foundation company PST Spezialtiefbau Süd. It entails the installation of around 270 piles with lengths of up to 15.5m and diameters of about 900mm in soil consisting mainly of sand and gravel.
The drilling work has to be carried out partially with water injection, while the work also includes the drilling out of old port equipment such as the quay wall, steel beams or old anchors.
Atlas Copco recently introduced an updated version of its FlexiROC T30 R surface drill rig. The company said the focus was on operator work environment and surrounding environment with features such as a silence kit, new dust collection system (DCT), bag handling system and water mist option.
Atlas Copco said the FlexiROC T30 R Construction Edition was the only drill rig in the world, in its class, that combined all these options and features.
Uppländska Berg was the first company to take delivery of the drill rig and representatives paid a visit to Atlas Copco's surface and exploration drilling division in Örebro, Sweden.
Uppländska Berg's CEO Robin Karlsson said, "For my part, it was the first time I visited the factory and it was interesting to see both our rigs on site as well as to learn about Atlas Copco's plans for the future.
"It was also beneficial and important that we had the chance directly to address our thoughts and questions in terms of the machinery, which primarily focused on the working environment and the natural environment."
Silence kit
Atlas Copco said the silence kit could reduce noise levels by as much as 10dB, which it said was significant when working in urban development. The new, high performance dust collection system (DCT) has an intelligent cleaning system that will secure suction capacity in all conditions. The system can also be equipped with a bag handling system that will further reduce dust levels. The water mist option will prevent dust from escaping into the air by binding it to water, the company said.
Caterpillar's new MD6250 blasthole drill claims to deliver optimum drilling efficiency in single- and multi-pass applications for both rotary and down-the-hole (DTH) modes.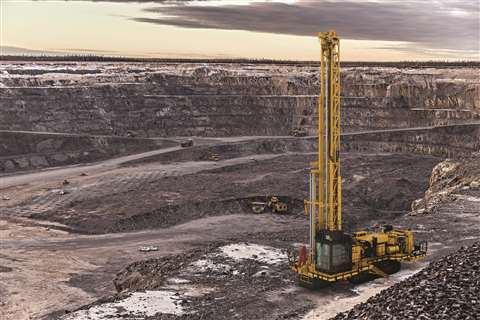 Featuring automated operation, the drill is said to run within ideal operating parameters for maximum bit life, hole accuracy, and reduced total cost of ownership.
A sculpted frame design boasts heavy cross-bracing in high-load areas for maximum machine longevity, while the box section provides optimum structural rigidity. The machine's four levelling jacks, mast pivot and deck are all welded integrally to the main frame.
The new MD6250 drill is application-built for efficient drilling of 10m and 12m benches, including angle drilling for cast blasting.
It is said to offer superior performance in both DTH hard rock and rotary soft rock applications, and it features angle drilling from 0° to 30° in increments of 5°. It has an approach angle of 15° for easy ramp access and loading, while the machine is capable of climbing up to 26° grades to get to the bench.
Vermeer has introduced the compact D10x15 S3 Navigator horizontal directional drill (HDD) for the utility installation market.
It said the D10x15 S3 was designed to provide more power and carriage speed, and lower sound levels than its D9x13 S3 Navigator HDD predecessor.
Tod Michael, product manager, said, "Market feedback indicated that utility contractors who are operating compact-size drills are demanding more performance.
"We listened and responded by optimising the horsepower, thrust, rotation and carriage speed of the new D10x15 S3 to help utility contractors install more feet per day."
The D10x15 S3 features a 44.7kW Deutz TD2.9 Tier 4 Final engine, which Vermeer said was a 36% power boost compared to its predecessor. Vermeer also increased the thrust/pullback to 44.5kN, the maximum torque to 2,033.7Nm, and the maximum spindle speed to 220rpm.
"Measuring just 3.8m long, the D10x15 S3 has one of the smallest footprints in its class," said Michael. "When a crew is working in a residential area with limited space, they may have to set up in the street. The compact design of the D10x15 S3 helps minimise traffic disruptions in a neighbourhood."
Also with utility contractors in mind, Ditch Witch has added the new JT40 horizontal directional drill (HDD) to its fleet of drills.
The new unit is equipped with two 7in (178mm) LED displays which the company said provided a direct, transparent view into all critical machine functions and operations.
In addition to the digital displays, the machine's real-time carriage-position indicator tells the operator the exact carriage location, for increased productivity and more intuitive operation.
Ditch Witch said a multifunctional, radial operator control was highlighted on the display for better control efficiency, including mud flow, rotation and more. A new feature on the JT40, tracker information is integrated into the advanced displays for enhanced visibility into all jobsite functions beyond drill operation.
Senior product manager, horizontal directional drills, Seth Matthesen said, "As with all of our products, we continue to seek customer feedback to improve uptime, profitability and performance, and this machine features several new pending patents to do exactly that."
Drilling efficiency
Ditch Witch said that for greater drilling efficiency, the JT40 offered an innovative, two-speed, rotational drive system that produced 7,457Nm of torque. It said the machine minimised pipe-entry distance, giving operators increased drill pipe support as it entered the ground.
When it comes to drill bits, Rockmore International has introduced its new Xtrac bit design.
The tapered body retrac bit is said to have been designed to improve top-hammer drill-and-blast operations.
Rockmore said the Xtrac bit increased overall drilling productivity by incorporating enhancements in the bit body design, as well as improvements in the configuration of flushing geometry.
It said this promoted straighter holes, faster penetration rates and longer bit life.
The bit features multiple flat spline grooves with extended cutting edges which the company said led to smoother retraction of the bit. It is available in conical, semi-ballistic, crown point, hemispherical and multipoint carbide profiles.
Numa claims to offer one of the largest ranges of DTH rock drilling hammers and bits available in the industry. The company boasts over 110 DTH products for drilling holes 89mm to 1,219mm in all types of conditions, applications, and industries.
Numa said it worked with drillers on job sites around the world to support its products and gain first hand insight for advancing DTH product design.
Its range of DTH products includes 18 different small diameter hammers for diverse drilling conditions. Said to be built specifically for longevity and penetration rate, Numa's Patriot hammers and bits drill at high frequency and require less air – even against high heads of water – the company said.
Numa's mid-range hammers and bits provide a combination of speed and life to excel against hard, abrasive and just plain nasty conditions, it said. A simplified hammer design with less internal components promotes less vibration and smooth operation.
Numa said it had pioneered the large hammer industry and led the market in performance and reliability. It said its forward thinking designs had proved themselves again and again in demanding applications around the world.
It also has reverse circulation products that can bring all cuttings up the centre of the hammer and drill string to be collected safely at the surface, and Super Jaws bits for simultaneous drilling and casing in hard rock and overburden formations.
Water management
And among other drilling accessories, Hilti is promising constant water supply and a clean jobsite during drilling with its DD-WMS 100 water management system, which it describes as a new way of diamond drilling.
It said it knew that diamond drilling involved many time-consuming repetitive steps, of which the actual drilling process may be one of the shortest. Keeping the jobsite clean and maintaining a constant water supply, it said, often occupied much more time and reduced productivity.
It claimed that the new DD-WMS 100 water management system made such tedious tasks a thing of the past.
Hilti said that all that was needed was to fill up the water tank and insert a filter bag, adding that as the water was recycled up to seven times, this was equivalent to about 100 litres of continuous water supply. Large wheels and handle bar made it easy to move around on the jobsite, said the company.
Once the filter is full and suction power begins to drop off, it was said to be easy to get rid of the slurry with disposable filter bags.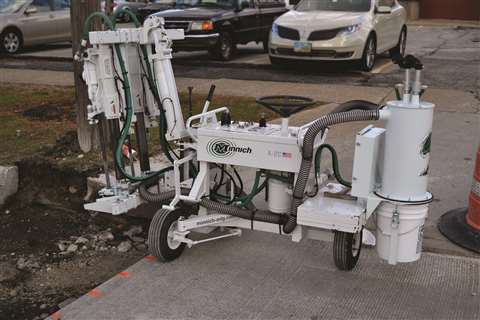 The patented multi-layer filter bags of the DD-WMS 100 are especially designed for collecting drilling slurry. Slurry collection reaches maximum capacity during the filtration process thanks to the effective use of the filter's surface. The water management system has three modes of operation – recycling mode, vacuum cleaning mode and water supply mode.
The DD-WMS 100 is compatible with all Hilti diamond drilling machines.
It was originally launched in France, Spain, Belgium, Luxembourg and Portugal, and has now been made available in Germany, Austria, Switzerland, and many other EU countries. It is expected to be in all the other countries before the end of this year.
Minnich Manufacturing, manufacturer of concrete dowel pin drills, has a dust collection system for dowel-pin drills.
Featuring Venturi-style suction and manual or automatic purge control, the pneumatic dust collector removes dust from the air as the operator drills. The canister-style unit can be retrofitted to any Minnich on-grade, on-slab, machine-mounted or utility drill model. It can also be adapted to fit other dowel pin drill makes and models.