Drilling Equipment: Kinder, gentler drilling
By Jenny Lescohier13 October 2020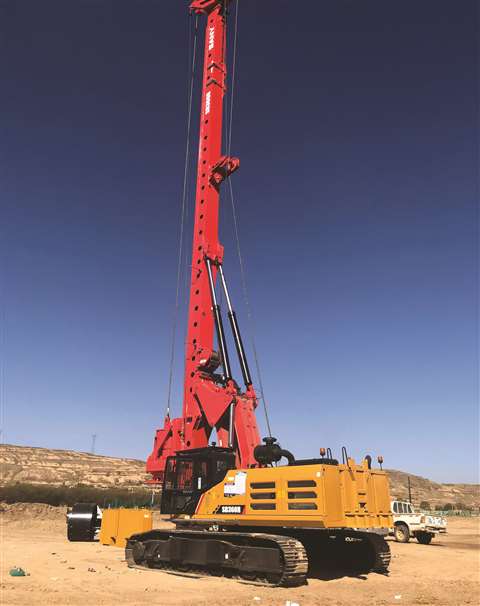 Whether it's a large quarry rig or a hand-held diamond coring tool, the predominant trends in drilling equipment are consistent: energy efficiency, autonomy and ease of operation. This is because the end goal is the same: maximum productivity with a dwindling pool of skilled workers.
In the interest of promoting 'emissions free' drilling, Liebherr introduced its electric-hydraulic LB 16 'unplugged' drilling rig at Bauma last year. The first battery-powered drilling rig to be introduced globally, according to the manufacturer, the deep foundation machine can be operated without a cable.
Roland Noestler, product management deep foundation equipment at Liebherr, says there are no restrictions in performance and application for the 55-metric-ton, 265-kilowatt-electric-powered LB 16 when compared to conventional, diesel-powered models.
The machine causes no local emissions and creates significantly less noise, he states, making it suitable for operation in noise-sensitive areas.
Unplugged, battery-powered drilling
The battery charge is designed to last for a ten-hour working shift and can be recharged overnight using a conventional job site electric supply (32 A, 63 A). Using a 125 A supply, the battery can be fast-charged in about seven hours.
"Our target was to design a rig which is able to work emission free for one shift without cable connection, or 'unplugged,' only powered by a battery," Noestler says. "You charge your machine overnight and you're ready to go."
While more expensive than a diesel-powered rig, there are fewer maintenance costs for the battery-powered LB 16, which is Liebherr's smallest drilling rig.
Is electrification the future for drilling rigs? Some manufacturers think so. "Electric drilling has existed now for decades as the main power source for the underground drill rigs," explains Tommi Salo, product manager, underground drills, Sandvik Mining and Construction. "The power source for the moving of the drill rig has been diesel, but it will be most likely replaced in the near future with electric motor and batteries."
A note about noise in drilling applications
Electric drills are quieter drills, and the goal of reducing noise on the job site is not a new one. While the sounds associated with actual drilling can't be eliminated, they can be reduced, and so can the noise connected with the motor driving the rig.
Vermeer Corp., which manufactures a range of small utility directional drilling rigs in the 6,000-pound range all the way up to a 1.3-million-pound pipeline rig, is always striving for less job site disturbance with the design of its machines, according to Tod Michael, product manager, trenchless products.
"We don't just refer to it as noise, we're also focused on managing drilling fluids so the operator can direct the machine to where they want and not leave a mess on the ground," Michael explains.
"Everybody's striving to have less impact on the job site and the environment. A lot of equipment is doing work in urban areas and we want to protect the neighbourhood and businesses from disturbance as much as possible."
Michael says drilling rigs don't traditionally have a lot of sound shielding around the engine, so larger rigs in particular can generate a lot of noise. As new models have been introduced, however, Vermeer has begun to emulate what excavator manufacturers have done to dampen noise from their machines.
"Our customers have asked for it," he says. "Noise reduction has a huge impact on operator fatigue. It's amazing how tired you are at the end of the day with an older machine compared to a newer one. A big issue for the industry is the lack of labour, so the more we can do to improve the life of those individuals, the more likely we'll be able to pull more people into the industry."
Digitalisation in drilling
All areas of construction are changing due to increased digitalisation and the data it affords, and drilling is certainly no different. The utilisation of surface models as part of a quarry or construction site planning, and drill rig connectivity with third-party cloud services, are becoming the norm.
To that end, Sandvik Mining and Rock Technology has introduced connectivity between its SanRemo remote monitoring system for Sandvik surface drilling equipment and Infrakit Cloud, a solution for connecting work machinery, field equipment and personnel on a single platform. According to the company, this encourages more efficient construction, better quality, real-time accessibility of project data and cost savings.
"The new solution creates a link between our OEM fleet management and third-party mixed-fleet cloud systems to make work easier for contractors, design engineers as well as equipment operators," explains Tuomo Pirinen, application expertise manager with Surface Drilling and Exploration Division at Sandvik Mining and Rock Technology. "The idea is to hook up with systems that companies already use, to reduce unnecessary complexity."
The new solution creates a flow of communication between Sandvik drilling equipment, the SanRemo information management system and Infrakit Cloud. The process data generated by onboard automation and TIM3D drill navigation systems can be shared with the systems of both contractors and civil engineering companies.
The ability to share project data with all the relevant systems and parties is a major benefit, according to the company. All the necessary data is available in the cloud.
Data generation on the drill rig is built on the Sandvik TIM3D drill navigation system. TIM3D allows pre-designed drill plans and surface models to be uploaded onto the drill rig, and even to be created or edited on the rig. During and after drilling, the rig stores as-drilled information, driller's notes, and Measurement-While-Drilling (MWD) data for reporting, quality control and downstream process planning.
Elsewhere, the Bauer Group has announced that an agreement has been reached with Schlumberger to end the joint venture they began together in 2015 for development and construction of large land-based deep drilling rigs for oil and gas.
The two companies agreed to discontinue their joint business due to high overcapacity in the oil drilling business heightened by the low price of oil.
Since 2015, Schlumberger participated in two companies within the Bauer Group with a cash capital increase of 49%: Bauer Manufacturing LLC in the US and Bauer Deep Drilling GmbH in Germany. Due to termination of the joint venture, the Bauer Group has taken over all shares in both companies. Autonomous drilling?
With a reduced labour force and rapidly advancing technological capabilities, it's no surprise drilling rigs are becoming increasingly autonomous.
"The future of drilling machinery will be smarter and autonomously controlled, and will be integrated with digital technology," says a representative from major China-based OEM Sany. "The adoption of autonomous technology will reduce the number of labourers employed and ease the operating pressure. Smart technologies make drilling machinery smarter and improve working efficiency."
The planning process for drilling in quarries and construction sites has undergone a change due to the increased utilisation of surface models, notes Jarno Viitaniemi, product manager, surface drilling, Sandvik Mining and Rock Technology.
"Drill plans are created more frequently forefront in the office with dedicated professionals instead of operators on site or on the drill rig," he says. "This has also shifted responsibility from the work site to the office. In addition, access to an ever-growing amount of data allows more accurate planning and results in more precise and cost-effective end results."
On a smaller scale
Digitalisation and automation reach hand-held drill rigs
There aren't a tremendous amount of similarities between large quarry drilling rigs and the type of drilling equipment you might see in building applications, but they're there. Increased digitalisation and automation are prime examples.
Hilti recently introduced its DD 150-U diamond core drilling system to North America with enhancements to simplify the drilling process.
According to the company, the new digital display on the tool indicates the ideal amount of pressure required to core efficiently and provides guidance on what gear should be selected based on core bit diameter as well as a digital level. This gives operators complete control of application and allows greater efficiency. The screen can be used to view operation modes and time of tool usage as well.
"The screen gives the user immediate feedback," notes Eric Hollister, director of electric tools & accessories for Hilti North America. "It will give indicators… are you putting enough pressure on the drill, or too much. It will give recommendations on the right bit type and size for the application."
The tool has Bluetooth connectivity which pairs with Hilti's WMS 100 BLE water management system. This feature controls the WMS 100 BLE directly from the DD 150, and allows operators to manage the status of the water management system.
After the work is done, operators can connect the tool to the Hilti Connect App and download data such as tool usage modes, gear selections, repair statistics, and user instructions.
Hollister says, "It will give you specs to help review and understand how the application was actually done so you can improve in the future."
Piling Equipment's Cobra T12000
New compact piling rig is designed for confined spaces
Piling Equipment Ltd. recently released its latest rotary piling rig, the Cobra T12000. Designed to be compact yet powerful, the company
claims the machine performs all standard piling functions but integrates a variety of upgraded modern attributes.
Powered by a Hatz engine designed for improved fuel economy, lower emissions, and a reduction in engine noise, the T12000 provides increased lifting capacity with simplified operation.
Initially the Cobra range was blueprinted by Piling Equipment Ltd. Once the core design was determined, the company combined forces with German manufacturer Adler Arbeitsmaschinen. The Cobra series was further developed with additional variants being released, including the first Cobra drophammer, the D500. Currently, Cobra drophammers (D500 and D1000) are manufactured in Germany, while the majority of Cobra models, including the T12000, are created and constructed in the UK.
The Cobra T12000 is designed for working on restricted access and low headroom sites. With a basic weight of 2850kg, a minimum height of 1730mm, a maximum height of 2350mm, a minimum width of 780mm and a maximum width of 1200mm, the T12000 has a reduced footprint and fully adjustable rubber tracks, enabling it to fit through gateways and doorways and work in confined spaces.
Protect this tool
Tool stress monitoring assists in drilling process optimisation
Profitable rock drilling requires balancing drilling power and cost efficiency. While the use of high drilling power is required for good performance, excessive power becomes counterproductive due to high stress levels and wear on drilling tools.
Optimisation of tool stress can play a major role in cost-efficient drilling operations, according to Sandvik Mining and Rock Technology, which has introduced RockPulse, a new product the company claims is the first practical solution for real-time tool stress monitoring in top-hammer drilling.
The add-on system integrates directly with the rock drill and its control system, and can be used in varying rock conditions.
Sandvik says RockPulse offers the potential to improve overall drilling performance by as much as 5%.
According to information provided by the company, RockPulse analyses each piston
blow in real time to extract data on the tool stress. This enables operators to optimise drilling power and minimise inefficient use of percussion energy. Stress waves created by piston strikes are measured continuously using sensor technology developed and patented by Sandvik.
The system is available for new Ranger DXi drill rigs and RD920 series rock drills.