Dromad adds Skyjack boom
By Joe Malone16 October 2017
Ireland-based rental company Dromad Hire has added Skyjack's largest articulated boom to its fleet, the company has announced.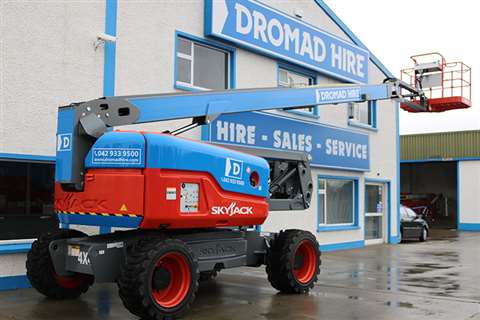 The Super Boom has an outreach of 17.07m and was launched at Vertikal Days show in the UK this year.
Dromad Hire's general manager, Ronan Cotter, said, "This new boom will provide that extra height and horizontal outreach where a traditional 65ft just won't extend to.
"It will be perfect for a lot of our existing customer applications that require extra height & reach for building roof maintenance."
Meanwhile, SkyJack Europe's sales manager Dean Marks, added, "Dromad have always been very proactive when it comes to introducing new innovative machines to their fleet, and this only demonstrates the company's commitment to deliver the most cutting edge products to their customer."
Dromad Hire has 29 years' experience in plant and tool hire, and boasts a fleet of over 800 products.
It recently added new service vans and equipment in the summer, in a bid to provide its customers with the latest products on the market.