Dual Raimondi luffing jibs construct Canadian condominiums
By Hannah Sundermeyer05 April 2022
Two Raimondi LR273 cranes are at work on a new Toronto area cluster development known as Nordic Condo.
Two Raimondi LR273 luffing jib cranes are hard at work in North York, Toronto on the construction of a grouping of 12-story condominium buildings.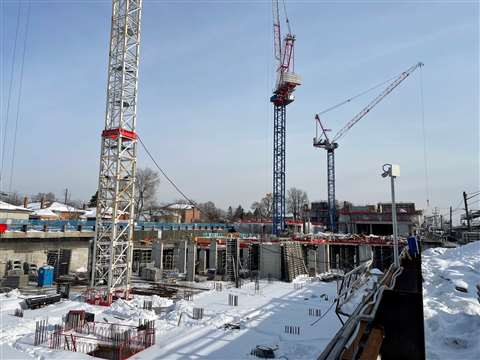 "We rented these two luffers from our sister company, JESS Equipment, as they perfectly met the jobsite requirements of having cranes with significant lifting capacity and adjustable boom swing," said Sante Paglia, president of Applewood Forming Inc., speaking as the project's contractor. "This specific Raimondi model, with its 20-ton maximum lifting capacity, ensured we would be able to lift all types of materials and equipment, including heavy mechanical and electrical equipment."
Erected by Total Crane team between April and June 2021, the LR273s are currently both freestanding at a height of 184 feet with jib length of 148 feet and tip load of 7.3 tons. JESS Equipment Inc., a Canadian equipment management company operating under Straw Construction Group supplied the two luffing jibs. 
"We were looking for cranes having excellent load curve, big drum capacity and great out of service radius. The latter was a key aspect to consider when selecting the cranes due to limited air rights and surrounding property boundaries," he specified. The LR273s are expected to be onsite for approximately 15 months before getting relocated to a new site.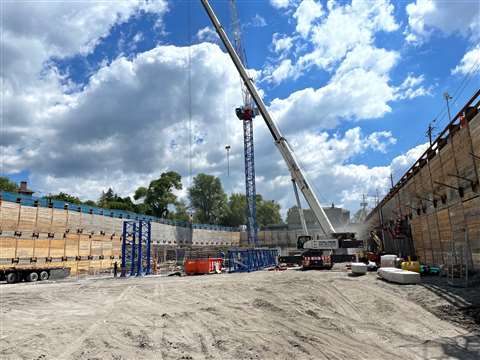 Paglia explained that with the jobsite located in one of the busiest roads of the area and minutes away from Downsview Airport, the main challenge was to install cranes that do not exceed certain heights to avoid interferences with the flight path of aircrafts using the airport.
"We are noticing a sharp increase in demand for luffing jib crane models; the Nordic Condos development captures the current trends in the region's construction industry. With the substantial number of ongoing and planned high-rise residential projects, the air rights issue and limited space constraints that affect almost every project, the luffing cranes that can best work within these parameters will continue to see big demand in urban areas," Paglia said.