Dust suppression 'partners' target US market
By Steve Ducker29 April 2022
Two USA-based companies have announced they are partnering to offer customers a "cost-effective dust suppression product".
Ohio-headquartered CW Machine Worx was recently named exclusive US distributor of the Dust Fighter 15000 and 20000 models from Generac, located in Wisconsin.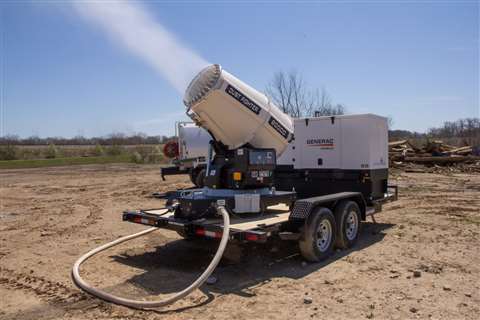 Both options will be available to buy or rent from CW Machine Worx's dealer, Company Wrench.
The DF 15000 and DF 20000 are described as mid-sized units capable of reaching throw ranges of 45 and 60 m (150 and 200 ft).
They are equipped with Generac generators and are mounted on "sturdy, well-balanced" trailers.
Although the specifications are generally similar, the Dust Fighters are said to weigh considerably less than competitive models, enabling easier and more affordable transportation.
CW Machine Worx was the authorised Dust Fighter distributor in the 2000s when the product was owned by Tower Light, before going into manufacturing its own domestic dust suppression product range,
Product manager Hugh Gordon believes this will be valuable experience.
"We had tremendous success selling Dust Fighters in the past," he said.
"I am confident we will build upon this success because of the brand recognition and the price point in the market."