Dutch contractor takes first two Hitachi Zaxis-7s
The first Hitachi Zaxis-7 medium excavators in the Netherlands have been successfully delivered to Grondverzetbedrijf Oosterveld, based in Bornerbroek in the east of the country.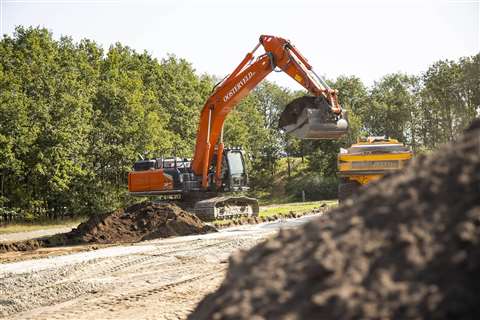 The ZX350LC-7 arrived in May and was followed in September by the ZX250LC-7. Both machines were supplied by Timmerman, an authorised sub-dealer of Hitachi Construction Machinery Nederland.
Grondverzetbedrijf Oosterveld specialises in earthmoving and infrastructure, and sister company Oosterveld Sloopwerken focuses on demolition activities.
They operate in their home country and Germany, as well as Denmark, France and the United Kingdom. Company directors Frank and Tom Oosterveld, who took over from their father, Jan, earlier this year, decided to invest in the new Zaxis-7 models after attending an event in Amsterdam.
They chose the ZX250LC-7 and ZX350LC-7 as much of their work requires machines compliant with the latest Stage V emission regulations.