Eagle 3 takes flight for Mantovanibenne
By Steve Ducker08 June 2022
Mantovanibenne (MBI) has introduced Eagle 3, a new generation of shears described as the result of 3.000 hours of development work and 10.000 hours of testing and 20 industry specialists.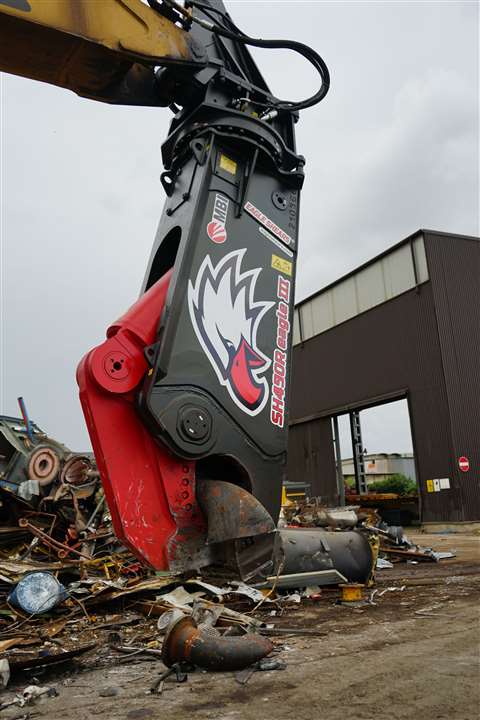 "Since the first SH shear produced in Italy in the early 1990s we have worked to produce reliable and efficient attachments in all operating conditions," said Paolo Mantovani, CEO of the Italy-based international manufacturer.
"Our shears are used on crawler and mobile excavators, on demolition equipment, in scrap recycling yards, but also in extreme temperature environments and also in offshore and subsea applications."
The new series, which was officially presented at the IFAT exhibition in Munich, Germany, is designed to maximise the duration of use and be maintained without complex interventions. The central pin of the shear, made up of sturdy components that increase its durability, can be easily removed directly on site, with simple and quick interventions.
The new design of the mouth allows an opening up to 9% larger.
The jaws are cut with a high-pressure water jet to avoid possible weakening due to high temperatures; the upper jaw has been completely redesigned to operate with absolute stability, made from a single element without welding.
The first five models in the range are available now, while the next two will be released shortly. The smallest model is the SH250R, with its 2,600 kg (5,732 lb) it is suitable for excavators from 24 to 29 t, while the largest will be the SH2200R for the biggest demolition operations.
The other models in the range are the SH320R, SH490R, SH600R, SH800R and SH1500R which integrate with the previous generation of MBI shears.