Edge Innovate adds tracked trommel to range
By Steve Ducker15 February 2018
Mobile equipment manufacturer Edge Innovate has expanded its product offering with the launch of the TRT516 tracked trommel.
Recently unveiled in the USA, a medium-sized category trommel screener targeted at customers who operate on sites with space restrictions.
The company says the product's robust design and ability to produce superior fine materials make it ideal for processing construction and demolition waste.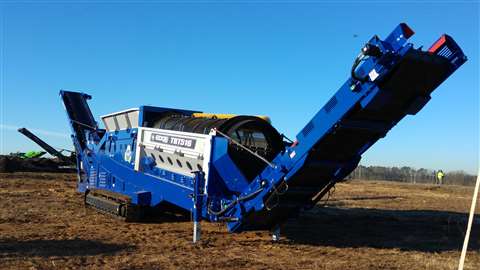 With hydraulic folding product conveyors, the self-propelled TRT516 track trommel has a quick transport procedure, allowing operators to move easily from site to site. Similar to Edge's wheeled mounted TRM516, the TRT516 is an end conveyor trommel design that ensures against contamination of screened product from material cross over.
Large oversize and radial fines discharge conveyors also provide impressive stockpiling abilities.
Design features include a 4.9 m (16 ft) long drum, four-wheel direct drive system ensuring maximum trommel traction, variable speed drum and feeder conveyor and a 180° radial fines conveyor fitted as standard.
Load sensing controls are also fitted as standard. The drum and the feeder will work together to prevent overloading using pressure transducer technology.
The TRT516 is the first product to be added to Edge's growing range of recycling equipment in 2018, with more launches expected throughout the year.