Edge protection training from FASET
By Euan Youdale19 September 2017
In response to industry demands for a recognised qualification specifically for the installation of BS EN 13374 edge protection, FASET, the trade body for the work at height temporary safety systems industry, has developed a training course and assessment scheme that covers the theory and practical aspects of the standard.
Working with CSCS in issuing the qualification, the end result after successfully completing the training and robust assessment is the award of a Blue CSCS skilled worker card with the occupation title 'Edge Protection Installer'.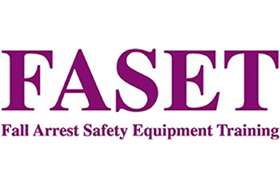 Rob Harris, chairman of FASET says, "The benefit of this scheme is the focus on the edge protection standard. BS EN 13374 incorporates a range of components including nets, mesh panel, scaffold fittings and tube. It is not scaffolding and this has been confirmed by the HSE's Construction Sector Safety Unit".
The practical element of the training course is based around designs produced in accordance with BS EN 13374 by a competent person. It means that learners build edge protection systems relevant to their normal working environment.
In keeping with the aim of all FASET training schemes to be learner relevant, all practical elements of the course include working at height and installing systems from a mobile elevating work platform (MEWP).
Harris continues, "It is not a turn up and get a ticket training course. We recognise the previous experience of each learner during their assessment. Some will require additional supervised on site experience before undergoing another on site assessment".
"The FASET training scheme results in a recognised card specifically for the installation of BS EN 13374 edge protection and this is something principal contractors and roofing contractors need to consider when selecting a competent installer of roof edge protection."