EIB loan aids Bosnian road projects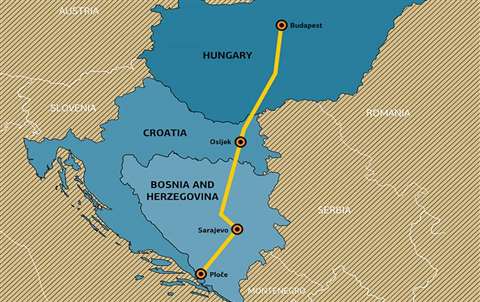 The European Investment Bank (EIB) and European Union (EU) have announced they are jointly supporting the construction of two sections of Bosnia and Herzegovina's Corridor Vc highway.
The EIB loan totals €140 million, while the EU has offered a grant of €64 million for the project.
Construction of the two road sections – Tarcin-Ivan (totalling 5.5km), and Poprikuse-Nemila (totalling 5.5km) – will include four viaducts, two twin-tube tunnels, three bridges and a railway overpass.
When completed, Corridor VC will form a significant road connection between Hungary and the Croatian port of Ploce, on the Adriatic.
The total length of the corridor will be approximately 700km, with 335km running through Bosnia.
Johann Sattler, head of the EU delegation in Bosnia, said, "I am pleased that Bosnia and Herzegovina has secured financing for additional sections of Corridor Vc because modern transport links are key for growth and the economic development of any country aspiring to join the European Union. Recognising these benefits for its citizens, the European Union will provide over 200 million euro in grant funding to speed up the construction of 13 major connectivity projects in Bosnia."