Eiffage-led consortium wins €358m German bridge contract
Eiffage subsidiary SEH is set to lead a consortium of companies in the construction of a bridge on the Rhine river in Leverkusen, Germany.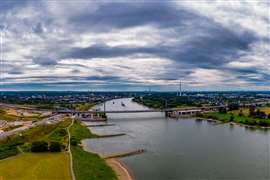 SEH will work with Max Boegl, Plauen Stahl Technologie, Zwickauer Sonderstahlbau and Hochtief Infrastructure on the bridge contract, valued at €358 million.
The contract was granted by the Rhineland Branch of Autobahn, the group responsible for managing Germany's motorway network.
The operation aims to replace an existing bridge with an optimised new structure, is part of the drive to enhance the quality of the country's bridges.
The proposed 688m-long bridge will be a major component of the A1 motorway connecting Leverkusen and Cologne.
Comprising two sets of four lanes, the bridge aims to alleviate congestion and improve connectivity in the region.
SEH will take charge of the demolition of the existing steel structure, as well as overseeing 25% of the manufacturing process for the new metal structure, implementing corrosion protection measures, and assembling all steel components and cables required for the bridge's stability.
The project will require more than 16,000 tonnes of steel, which will be locally manufactured and transported through the Rhine waterway.
Work is set to begin in September, with delivery slated for late 2027.