Electric and hydrogen 'milestones' for JCB
By Steve Ducker08 June 2023
JCB is introducing its first fully electric wheeled loader, which boasts the largest standard battery pack in its class, with a 20kWh capacity and productivity matching its diesel counterpart.
Launched at the company's German headquarters at Frechen, near Cologne, and the latest in a series of electric products from JCB, the 403E is described as a a way of "helping customers to meet the challenge of carbon reduction on site".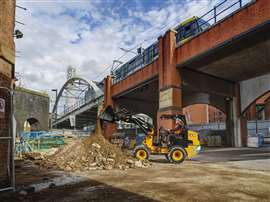 It is said to be capable of completing a full working day, or between four to five hours of continuous use in a mixed duty cycle. 
In common with the JCB E-Tech range, the 403E has a built-in charger that allows connection to a range of on-site power sources, with the company's off-board rapid charger capable of delivering a full charge from a three-phase supply in two hours.
A further feature of the machine is its three driving speeds - Hare Model (maximum 20km/hr), Tortoise Mode (8km/hr) and Snail Mode (5km/hr). Standard lift arms deliver a pin height of 2.9m, while the high-lift model achives 3.1m.
Also announced this week, JCB has reached a major production milestone with its 50th hydrogen combustion engine after a team of 150 engineers worked on its development for nearly two years.
The company said that its hydrogen engines are already powering prototype backhoe loaders and Loadall telescopic handlers and its has also recently unveiled its own designed and built mobile refuelling bowser for the machine.