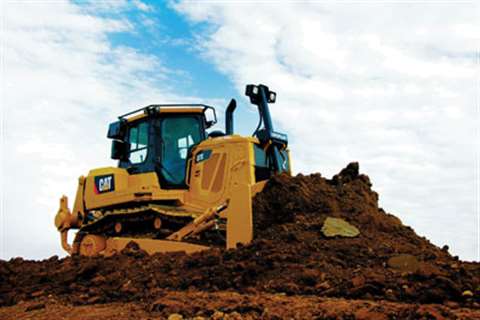 One of the most interesting launches at the ConExpo-Con/Agg exhibition in Las Vegas last month was Caterpillar's first ever electric drive dozer. The D7E model marks the company's introduction into a new technology system addressing fuel concerns and better productivity for its customers. Compared to the D7R Series II, Cat says the D7E will deliver +25% more material moved per litre of fuel, +10% greater productivity and +10% lower lifetime operating costs.
In the unit's power train, the diesel engine drives a generator to produce electricity that powers two AC electric drive motors, which are connected to a differential steering system. The company says a traditional mechanical transmission is not needed, because the variable speed electric motors serve the function of a continuously variable transmission. The electric drive train has -60% fewer moving parts compared to previous D7 models. Because the electric system provides power to auxiliary components, engine belts are not needed.
In addition to the electric drive system, the D7E incorporates many design improvements compared to previous models. Most noticeably, the cab provides more all-around visibility and wider sight lines.
"The cab really is an office for our operators. One of our concerns is keeping our customers happy," said David Nicoll, commercial manager for track-type tractors with Cat.
Other D7E features and benefits include easier operator training as the unit has no gears to shift. Its tilt cab provides allows ready access for maintenance. The electric A/C system is a self-contained module and is mounted outside the cab. Noise levels in the cab also are reduced by -50%. A single, larger blade lift cylinder replaces the traditional dual cylinders. It provides the power and stability of a dual-cylinder system but with less than half the parts-for reduced maintenance. It also aligns with the centre post of the cab to enable enhanced visibility.
The machine weighs approximately 60000-pounds (27 tonnes) and is powered by a Cat C9 engine producing 235 hp (175 kW). The engine with ACERT technology meets US Tier III and European Stage IIIA emissions standards, and is designed with Tier IV/Stage IIIB "in mind," according to the company.
Cat plans to commercially introduce the D7E in select markets during 2009. Both the D7E and D7R will both be offered next year but the company said it planned to eventually discontinue the D7R.
"We plan to target mature markets: North America, Europe, Japan and probably Australia," Keith Heiar, senior project manager for track-type tractors within Cat's Heavy Construction and Mining Division told CE.
As to whether the electric drive motor system will be applied to other Cat lines, the company said it was looking into it but did not provide any specific range or make.