Electric drive for Cat
By Sandy Guthrie24 August 2017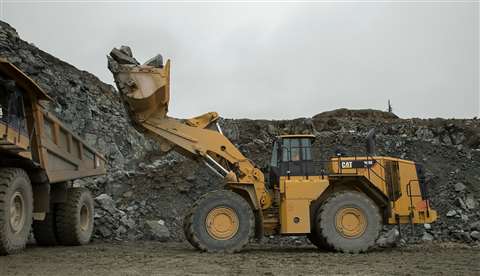 A new electric drive loader from Caterpillar is claiming to deliver 25% greater overall efficiency and up to 10% more productivity in load-and-carry applications than Cat's 988K loader.
The new Cat 988K XE is the first wheeled loader offered by Caterpillar to have a high-efficiency electric drive system. The company said the new large wheeled loader joined the 988K and the recently-launched 986K to provide customers with the most cost-effective loader for each application.
It said the 988K XE was recommended for demanding job sites where fuel efficiency made a difference in the machine's total cost of operation.
Cat claimed 15 years of electric drive experience, and more than four years of stringent testing in a range of applications. The new loader features switched reluctance (SR) technology. The C18 ACERT engine, mechanical dropbox, driveline and axles from the 988K are retained for the electric drive machine.
The 988K XE's diesel engine provides power to an electric generator, which in turn provides power to the electric motor to drive the machine forward and in reverse.
Hydraulic pumps raise and lower the linkage and actuate the bucket, and these hydraulic pumps are driven off of engine power.
The 988K XE is said to increase efficiency by 25% overall and by up to 49% in face-loading applications, when compared to the 988K, reducing costs and helping to reduce greenhouse gas emissions and carbon footprint.
At the same time, Caterpillar said its production studies reported that the new loader delivered up to 10% higher productivity in load-and-carry applications.
A range of bucket capacities are offered, from 4.7 to 13m3. Rated standard and high lift payload for the loader reaches 11.3 tonnes when working with face material, and 14.5 tonnes with loose material.
Cat said the electric drive technology in the 988K XE lowered overall maintenance costs, while increasing engine life expectancy. Offering extended oil change intervals of 2,000 hours, the electric drive wheeled loader is said to use 40% less powertrain oil.
It added that the durable SR drive motor, generator and inverter were built to last through the second engine life with minimum maintenance. It claimed the electric drive design increased engine life by up to 3,500 hours, extending time between powertrain rebuilds.